Equipping Alexa with self-programmed skills
More than a Word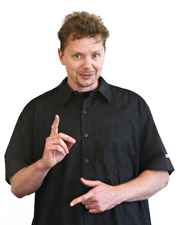 Asking Alexa only for built-in functions like the weather report gets old quickly, and add-on skills from the skills store only go so far. With a few lines of code, Mike teaches this digital pet some new tricks.
Okay, I admit, I don't like getting up from the sofa to check out something on the Internet if my phone is out of reach. But who does? In the household of the future, a device like Amazon's Echo will be around to help you with things like this in the form of a tin can in the living room. The Amazon Echo Dot, which looks much like a hockey puck (Figure 1), is the successor to the tin-can-like Echo device and offers the same voice interface at a lower price point.
Amazon's dream, of course, might be that customers at home will just shout "Alexa, order toilet paper," to send the language assistant scurrying off to place the order with the Internet discounter, who then quickly dispatches a drone to deliver the much-needed household item to the anxiously waiting consumer.
Supposedly Safe
While the device constantly listens in the room, waiting to respond to the spoken word, it is in a kind of twilight state most of the time and does not forward incidental noise picked up by the microphone to the Amazon Cloud for analysis, according to the provider. Instead, the voice assistant waits for the user to speak what is known as the wake word, usually "Alexa," before activating the speech recognition-enabling connection to the Amazon Cloud. Instead of "Alexa," "Amazon," or "Echo," Star Trek fans can switch the wake word to "Computer" (Figure 2) and then talk to the assistant just as Captain Jean-Luc Picard spoke to the on-board computer on the bridge of the starship Enterprise.
[...]
Use Express-Checkout link below to read the full article (PDF).
comments powered by

Disqus
Visit Our Shop
Direct Download
Read full article as PDF:
Tag Cloud