Signet password manager
Let's Get Physical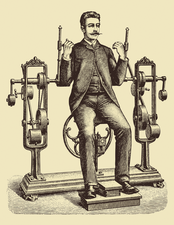 At the intersection of free software and crowdfunding, a USB password manager offers an innovation in security.
Small, crowdfunded businesses creating innovative open hardware are becoming one of the technological trends of the last few years. For instance, Keyboardio [1] is shipping its first ergonomic, customizable keyboard, while Purism [2] is gaining a reputation for its high-end laptops and is currently building the security-conscious Librem 5 phone. More recently, after a successful fundraising campaign [3], a two-person startup called Nth Dimension [4] is releasing Signet, a USB device for managing passwords that brings a few new twists to security.
Neils Nesse, the founder of Nth Dimension, writes that, "I have been a user and advocate of free and open source software for my entire adult life, although I haven't made many contributions so far outside of a few bug fixes and releasing some small graphics-related libraries on GitHub [5]. I started developing Signet soon after I made a DIY hardware password manager using some instructions online. It worked okay, but the user experience had a lot of pain points, and the device had limited portability. I didn't find any other open source offline hardware password manager options that I liked, so I resolved to create my own. In the long term, I plan to produce other consumer electronic devices, particularly devices where security and privacy are desirable."
Introducing Physical Security
Signet consists of a USB device (Figure 1) and a software client for Android, GNU/Linux, OS X, or Windows (Figure 2). Like any setup designed for security, Signet is based on encryption – specifically, the AES-256 standard [6] with cipher blockchaining [7] for authentication and encryption of the database. The encryption for each database entry is encrypted as a blockchain with unique initial blocks, which eliminates the possibility that similar blocks might be used for more than one entry and makes cracking more difficult.
[...]
Use Express-Checkout link below to read the full article (PDF).
comments powered by

Disqus
Visit Our Shop
Direct Download
Read full article as PDF: