A chip to enable open hardware
Open Hardware – RISC-V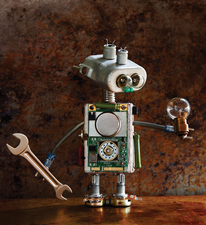 The new RISC-V chip promises to be a game changer in the open hardware field.
The lack of open source computer chips has always been a major obstacle to the development of free hardware. The supply is limited, which can limit the number of open hardware units, and suppliers have been known to substitute proprietary chips without informing the manufacturer. In recent years, such problems have been alleviated by single-board microcontrollers, like those made by Arduino, but these devices are useful mainly for dedicated hardware with limited capacity. Now, however, the situation is on the verge of changing – in no small part because of the emergence of the RISC-V (pronounced "RISK Five") chip, which is starting to be used in proprietary and open hardware alike [1].
The idea of reduced instruction set computers, or RISC chips, has been around for several decades [2]. RISC refers to chips that have a greatly simplified set of instructions, which can make operations more efficient and reduce power expenditure. For example, rather than access to memory being included in most of the instructions that the chip uses, in a RISC chip, access to memory may be included only for operations in which it is needed. Examples of RISC-type architecture includes the PowerPC, MIPS, and SPARC, as well as the use of ARM in iOS and Android devices.
RISC-V is one of the latest implementations of the RISC concept. It originated in a three-month project in the summer of 2010 at the University of California, Berkeley, in their Electrical Engineering and Computer Sciences department's computer science division. Further development of the RISC-V architecture was funded by the Defense Advanced Research Projects Agency (DARPA), led by Krste Asanovic, Yunsup Lee, and Andrew Waterman. According to Jack Kang, the vice president of product and business development at SiFive [3], a company founded by the original developers, "the team was able to prove that smaller teams could design state-of-the-art silicon." The initial specifications were released under a BSD license, making the specifications an open standard that could be used for both proprietary and open purposes – a decision that played a major role in RISC-V's development, especially since no other chip specification was so accessible to users. The interest was immediate, and in 2015, the RISC-V Foundation was established: a non-profit organization that develops and promotes the RISC-V Instruction Set Architecture (ISA).
[...]
Use Express-Checkout link below to read the full article (PDF).
comments powered by

Disqus
Visit Our Shop
Direct Download
Read full article as PDF: