An input device for keyboard shortcuts
Open Hardware – Palitra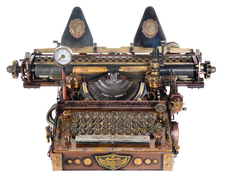 For even simpler keyboard shortcuts, the prospective Palitra allows you to create simple macros with a programmable USB device.
The keyboard is by far the most efficient way to interact with a computer. Pressing keys is faster than a mouse or trackball and reduces repetitive stress injuries, as well. For many, these advantages make learning keyboard shortcuts well worth the effort. Unfortunately, most non-gaming keyboards lack separate programmable keys, and shortcuts are often complex key combinations. Michele Balistreri's forthcoming Palitra offers simpler shortcuts: a programmable USB device for storing several dozen shortcuts. Palitra is scheduled for a crowdfunding campaign to assist manufacturing [1].
When he was 13, Balistreri first encountered open source software in a Corel Linux CD included in an Italian magazine. Since then, he has contributed to MPlayer and the icculus fork of Quake 2, briefly maintained KDE packages for Gentoo Linux, developed embedded software, and designed hardware.
Working as a fashion photographer inspired Balistreri to develop Palitra. He explains, "As a photographer, I spend a lot of time retouching, using a Wacom tablet and a keyboard for shortcuts. However, the typical keyboard is rather large and some combinations are hard to activate with one hand (especially being left handed). Often, my hand gets in the way of the stylus [for the tablet], and I cannot keep it constantly on the keyboard. To avoid shoulder ache and time wasting, I decided that I needed a small input device, which could be placed next to the tablet and programmed with all the shortcuts I need."
[...]
Use Express-Checkout link below to read the full article (PDF).
comments powered by

Disqus
Visit Our Shop
Direct Download
Read full article as PDF: