Linus Torvalds and Greg Kroah-Hartman discuss the state of Linux
Kernel View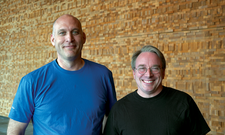 Linux creator Linus Torvalds describes some recent challenges and opportunities for the Linux kernel – and stable branch maintainer Greg Kroah-Hartman joins in with thoughts on diversity and competition.
In what's becoming an annual event, I sat down with Linus Torvalds at the Open Source Summit, Vancouver (Canada) to talk about the state of Linux. We chatted for over an hour and Greg Kroah-Hartman (maintainer of the stable branch of the Linux Kernel) also joined us. We talked about a wide range of topics, including the sustainability of Linux, threats to Linux (both from inside and outside), the state of security in the kernel world, the success of Linux on the desktop, his outbursts on the Linux kernel mailing list, privacy, diversity, and much more.
Following is an edited version of my interview with Linus, along with a special appearance from Greg Kroah-Hartman.
[UCC:intervewer-intervewee]Swapnil Bhartiya:[/UCC] It's been almost 27 years since Linux came to life. How are things in the Linux world?
[...]
Use Express-Checkout link below to read the full article (PDF).
comments powered by

Disqus
Visit Our Shop
Direct Download
Read full article as PDF: