Image processing with Go
Programming Snapshot – Go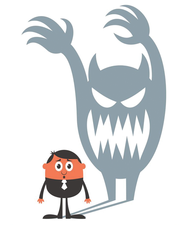 Go comes with an image-processing toolkit right out of the box. In this month's column, Mike Schilli explains how to walk through a photo's pixels to detect the foreground by comparing values against a threshold and shows how to manipulate the original by creating a nice looking silhouette.
Until recently, my headshot at the end of every "Programming Snapshot" article showed a much younger version of myself, dating back 15 years, so I grudgingly shot a new one the other day. While doing this, the idea occurred to me to try out my new favorite language Go's suitability for image processing. How hard could it be to generate an artful silhouette of the person shown in the photo?
Of course, with some Gimp skills this could be done quite quickly. However, what is far more interesting is the question of how an image processing program walks through the pixels of Figure 1 and finds out which of them actually belong to the person (the foreground) and which to the lighter background. When a foreground pixel is found, the algorithm can then go ahead and set it to black, which in the digital world means it has its red, green, and blue channels set to 0,0,0. Easy enough, right?
Finding the Foreground
With a light background and a significantly darker object in the foreground, the program in Listing 1 [1] simply finds all pixels whose brightness lies below a previously defined threshold value and blacks them out completely. The Darken() function accepts a draw.Image type structure from line 9, including the width and height of the image in the width and height parameters in pixels.
[...]
Use Express-Checkout link below to read the full article (PDF).
comments powered by

Disqus
Visit Our Shop
Direct Download
Read full article as PDF: