Go program stores directory paths
Programming Snapshot – cdbm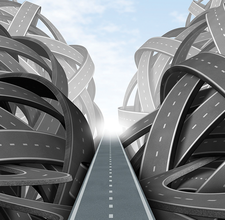 When you change directories at the command line, you often find yourself jumping back and forth between known paths. With a utility written in Go, Mike Schilli records the jumps and shows the way back.
While younger coworkers tend to edit their programs with clever IDEs, I still find it most natural to jump to local Git repositories with a quick cd at the command line and fire up Vim at files with the source code residing there. Typing in the directory path each time is a pain in the ass, and there are usually only half a dozen paths back and forth – so the command line should be able to remember that.
The C shell invented the pushd and popd commands many years ago, but wouldn't it be much more convenient to automatically record the directories you visit, store them in a database, and even offer search queries for previously visited directories based on criteria such as frequency or the timestamp of the last visit?
In this issue, a Go program by the name of cdbm collects the paths accessed by the user during a shell session; the command line user just uses cd, and some magic glue in the shell's configuration then taps into the $PS1 prompt generator. If the directory changes, cdbm gets called and stores the new path in an SQLite database on the disk, which later allows search queries whose results can be accessed directly by the user for navigation help. Bash users can modify their .bashrc file to enable this. On typing a newly introduced command c, users will see a selection list with the last directories visited (Figure 1). After selecting one of them with the cursor keys and pressing Enter, the shell directly jumps there (Figure 2).
[...]
Use Express-Checkout link below to read the full article (PDF).
comments powered by

Disqus
Visit Our Shop
Direct Download
Read full article as PDF:
News
Anyone looking to finally get their hands on an early release of the PinePhone can do so as of November 15.

Microsoft is bringing it's new Chromium-based Edge browser to Linux.

OIN has deployed its legal team to find prior art.

The latest version of Fedora comes with new packages and libraries.

openSUSE enables developers to build their own WSL distributions.

A vulnerability in the sudo package gives sudo users more powers than they deserve.

The Art of PostgreSQL by Dimitri Fontaine is now available.

New distro will provide an upstream test bed for RHEL.

The feature will let developers restrict root access to the kernel.