Flickr Free: Flickr Client for Android

Productivity Sauce
Oct 13, 2010 GMT
While Flickr features a slick and highly functional mobile interface, it can't replace a native Android client. Especially a client like Flickr Free which boasts a few clever features that make this nifty app a must-have tool for all shutterbugs.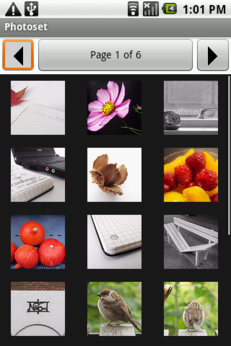 As you would expect, Flickr Free allows you to access and browse your photostream, sets, collections, and favorites. You can also view individual photos and perform different actions on them. To do this, long-tap on the currently viewed photos to evoke the context menu. You can then use the available commands to add the photo to favorites, download it to your device, view detailed information about the photo as well as add comments and tags. Using Flickr Free's search feature, you can search public photo groups, users, and tags. Flickr Free also integrates with the system and allows you to upload photos from your device to Flickr. Open the photo you want for viewing, press Menu and tap the Share button. Select the Flickr Free item, fill out the required fields, specify the available options, and hit Upload. Flickr Free can handle multiple accounts, too. So it can come in rather handy when you need to manage several Flickr identities from your Android device. All in all, Flickr Free is a nice little app which makes a great addition to your photographic toolbox.
comments powered by

Disqus

Issue 37: Discover LibreOffice – 2019 Edition/Special Editions
Buy this issue as a PDF
Digital Issue: Price $15.99

(incl. VAT)
News
Anyone looking to finally get their hands on an early release of the PinePhone can do so as of November 15.

Microsoft is bringing it's new Chromium-based Edge browser to Linux.

OIN has deployed its legal team to find prior art.

The latest version of Fedora comes with new packages and libraries.

openSUSE enables developers to build their own WSL distributions.

A vulnerability in the sudo package gives sudo users more powers than they deserve.

The Art of PostgreSQL by Dimitri Fontaine is now available.

New distro will provide an upstream test bed for RHEL.

The feature will let developers restrict root access to the kernel.