Keep Your System Clean with BleachBit

Productivity Sauce
May 10, 2010 GMT
Keeping your system clean can be a time-consuming affair, unless you use specialized tools like BleachBit (thanks to Nick Lord for the pointer). With just a few mouse clicks, this nifty little utility can help you to purge all the junk produced by the system and installed applications. Packaged versions of BleachBit are available for many popular distributions, so you can easily install the utility using your distro's package manager. Once installed, you can run BleachBit either as a regular user or as root.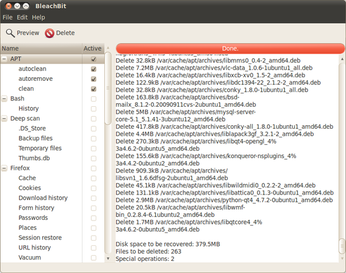 BleachBit's interface is simplicity itself, so you can figure out how to use the tool in a matter of minutes. Better yet, BleachBit provides brief descriptions of each cleaning option, making it even easier for you to use the tool. BleachBit supports a wide range of applications, including Firefox, Google Chrome, Konqueror, and OpenOffice.org. You can also use the utility to clean up after APT and Bash as well as remove assorted junk left by the system.
Besides the GUI, BleachBit features a command-line interface, which lets you automate the tool using scripts. For example, you can create a simple script that cleans Firefox and Google Chrome cookies using the following command:
bleachbit --delete firefox.cookies google_chrome.cookies
Create a cron job, and BleachBit will nuke cookies on a regular basis. You can find additional examples of how to use BleachBit from the command line on the project's Web site.
comments powered by

Disqus

Issue 37: Discover LibreOffice – 2019 Edition/Special Editions
Buy this issue as a PDF
Digital Issue: Price $15.99

(incl. VAT)
News
Anyone looking to finally get their hands on an early release of the PinePhone can do so as of November 15.

Microsoft is bringing it's new Chromium-based Edge browser to Linux.

OIN has deployed its legal team to find prior art.

The latest version of Fedora comes with new packages and libraries.

openSUSE enables developers to build their own WSL distributions.

A vulnerability in the sudo package gives sudo users more powers than they deserve.

The Art of PostgreSQL by Dimitri Fontaine is now available.

New distro will provide an upstream test bed for RHEL.

The feature will let developers restrict root access to the kernel.