Kick-start Your Brain with Scribble

Productivity Sauce
May 08, 2009 GMT
Sometimes your brain needs a gentle push to get into gear. For some a good cup of coffee does the trick, while others prefer to use a good word game to kick-start their gray cells. If you belong to the latter category, you might appreciate Scribble, a command line-based version of the popular Scrabble game. Scribble is available in the software repositories of many mainstream Linux distributions, including Debian and Ubuntu. To install Scribble on the latter, run the sudo apt-get install scribble command and you are good to go. Run the scribble command to start a new game. You can also specify a difficulty level from 1 (easiest) to 9 (most difficult), for example: scribble 5 or scribble 7.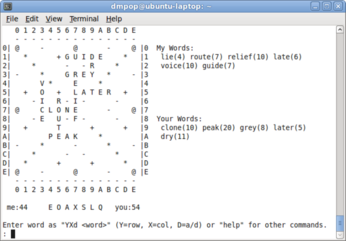 If you are familiar with Scrabble, you won't have problems figuring out how to play Scribble. Your task is to use the letters at your disposal to construct a word and place it on the board. To do the latter, you have to specify coordinates and direction first, for example 57a (a stands for "across") or 9Bd (d stands for "down"). Similar to the original game, Scribble's board sports bonus squares that double and triple letter and word scores. You can view a full list of letter values and bonus scores at any time using the info command. The pass command allows you to skip your turn, while the quit command quits Scribble. To view a list of all available commands, type help and press Enter.
Although Scribble doesn't sport advanced features like multi-player or network games, and it lacks a graphical interface, it's still a fun game to play. So if you need a quick brain exercise, give Scribble a try.
Comments
Scribble on Fedora?

How on Earth do you find this? I have looked everywhere. I'm using Fedora 13, and it is not in the repositories.
comments powered by

Disqus

Issue 199/2017
Buy this issue as a PDF
Digital Issue: Price $9.99

(incl. VAT)
News
Both projects help organizations build their own containerized systems.

Mark Shuttleworth has resumed the position of CEO of Canonical.

Microsoft's open source code hosting platform CodePlex will come to an end after a more than 10-year stint.

Comes with Gnome 3.24

The bug was introduced back in 2009 and has been lurking around all this time.

The new release deprecates the sshd_config UsePrivilegeSeparation option.

Lives on as a community project

Five new systems join Dell XPS 13 Developer Edition that come with Ubuntu pre-installed.

The Skype Linux client now has almost the same capabilities that it enjoys on other platforms.

At CeBIT 2017, OpenStack Day will offer a wide range of lectures and discussions.
Tag Cloud