Language Drills with Raspberry Pi

Productivity Sauce
Jun 27, 2013 GMT
After a long pause, I'm back to my favorite pastime: learning foreign languages. But this time, I've enlisted Raspberry Pi as a little language learning tool. Currently, I'm using an audio language course, and Raspberry Pi helps me memorize the words and phrases I learn. The way this works is very simple. I chop each audio lesson into sentences and phrases using Audacity and save them as MP3 files in a separate directory. Raspberry Pi is hooked to a breadboard with a push button and a resistor as shown on the diagram.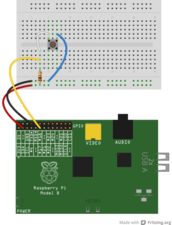 When I push the button, a Python script picks a random mp3 file and plays it. The script is rather simple, and it uses the mpg321 player to play mp3 files.
#!/usr/bin/env python
 from time import sleep
import os, random
import RPi.GPIO as GPIO
 GPIO.setmode(GPIO.BCM)
GPIO.setup(17, GPIO.IN)
while True:
 if (GPIO.input(17) == False ):
  randomfile = random.choice(os.listdir("./mp3"))
  print randomfile
  os.system('mpg321 ./mp3/'+ randomfile +' &')
        sleep(0.1);
The script requires several packages which can be installed using the sudo apt-get install python-dev python-rpi.gpio mpg321 command.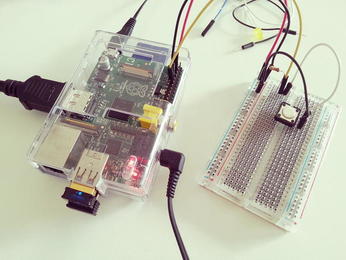 This is just a very rough prototype, and there are a lot of things that can be improved and tweaked. For example, I'm thinking about using an LDR (light-dependent resistor) to play a random file when light hits it. This way, I can place Raspberry Pi into a fridge, so it plays random files every time I open the door. Another possibility is to hook up a dot-matrix LCD screen and make Raspberry Pi display random words and phrases. Honestly, with so many ideas, I'm not sure whether I have time to learn Japanese.
comments powered by

Disqus
Issue 198/2017
Buy this issue as a PDF
Digital Issue: Price $9.99

(incl. VAT)
News
Both projects help organizations build their own containerized systems.

Mark Shuttleworth has resumed the position of CEO of Canonical.

Microsoft's open source code hosting platform CodePlex will come to an end after a more than 10-year stint.

Comes with Gnome 3.24

The bug was introduced back in 2009 and has been lurking around all this time.

The new release deprecates the sshd_config UsePrivilegeSeparation option.

Lives on as a community project

Five new systems join Dell XPS 13 Developer Edition that come with Ubuntu pre-installed.

The Skype Linux client now has almost the same capabilities that it enjoys on other platforms.

At CeBIT 2017, OpenStack Day will offer a wide range of lectures and discussions.
Tag Cloud