MediaCrush: Open Source Image Hosting for Privacy-Conscious Users

Productivity Sauce
Nov 22, 2013 GMT
Next time you need to share a photo, an animated GIF, or an audio file, consider using MediaCrush. Why? Because this media hosting service is not only based on open source software, it also goes to great lengths to protect your privacy. MediaCrush uses https by default, it respects the Do Not Track settings, and it even allows you to turn off ads. The service doesn't store any history on its servers either; Instead, the history is saved locally in your browser. The only thing the service stores is your hashed IP address when you upload a file. This enables MediaCrush to identify malicious users and prevent them from uploading. MediaCrush is also transparent about its revenues, expenses, and statistics, and monthly reports are available for your perusal.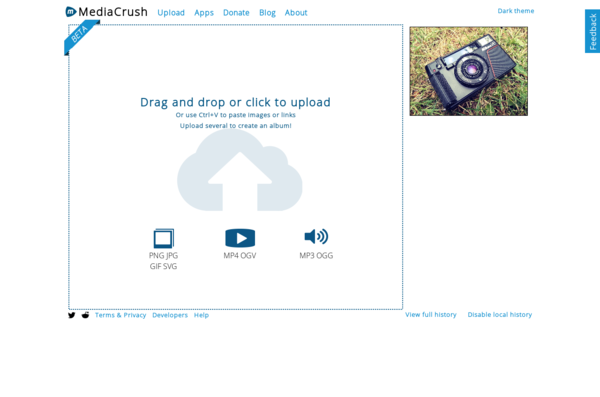 Privacy and transparency is only a part of MediaCrush's appeal. The service lets you upload and manage your media files with consummate ease. Uploading media to MediaCrush is as easy as dropping files from your machine onto the upload area of the service's web interface. When uploading multiple files, you are also given an option to create an album. For each hosted media file, MediaCrush conveniently generates links which let you embed, share, and download the file. MediaCrush stores the history locally, and you can view a list of uploaded files by pointing your browser to https://mediacru.sh/mine. There is also the MediaCrush shell script which can be used to upload files to MediaCrush from the command line. MediaCrush's source code is available on GitHub along with instructions on how to deploy the application on your own server.
comments powered by

Disqus

Issue 37: Discover LibreOffice – 2019 Edition/Special Editions
Buy this issue as a PDF
Digital Issue: Price $15.99

(incl. VAT)
News
Anyone looking to finally get their hands on an early release of the PinePhone can do so as of November 15.

Microsoft is bringing it's new Chromium-based Edge browser to Linux.

OIN has deployed its legal team to find prior art.

The latest version of Fedora comes with new packages and libraries.

openSUSE enables developers to build their own WSL distributions.

A vulnerability in the sudo package gives sudo users more powers than they deserve.

The Art of PostgreSQL by Dimitri Fontaine is now available.

New distro will provide an upstream test bed for RHEL.

The feature will let developers restrict root access to the kernel.