Shutter (aka GScrot): Screenshot Utility on Steroids

Productivity Sauce
Feb 06, 2009 GMT
Writing computer-related tutorials, documentation, articles, etc., is virtually impossible without a good utility for taking screenshots -- and Shutter (formerly known as GScrot) has all the features you could possible need.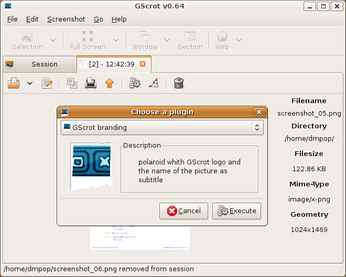 For starters, Shutter sports a tabbed interface, so you can work with several screenshots at the same time. Like any screenshot utility worth its salt, Shutter allows you to grab a selected area, a window section, and a full window. Besides that, Shutter has a rather nifty feature that allows you to take a screenshot of an entire Web page. To do this, press the Web button in Shutter's main toolbar, enter the URL of the page you want to grab, and press Execute. Once you've taken a screenshot, you can edit it directly in Shutter using the available tools. You can, for example, edit the screenshot using the built-in editor, rename the screenshot, and print it. Moreover, Shutter comes with an impressive collection of effects which you can apply to the screenshot. For example, you can turn the screenshot into a Polaroid photo, apply soft or hard edges, turn the screenshot into a jigsaw piece, and even export the screenshot as a PDF document. But that's not all: you can also upload it to an FTP server or screenshot-sharing service by pressing the Upload button. Before you can do this, though, you have to configure the Upload settings. Choose Edit -> Preferences -> Upload, and either edit the settings of one of the default services or create a new FTP connection by entering the required information in the fields in the File Transfer Protocol (FTP) section.
Comments
Yes

You find it in the "Advanced" tab of the preferences.

Shutter-automatic screenshot feature?

Does Shutter have an automatic screenshot feature--based on time interval (every 5 minutes, 10 minutes, etc.?)?

Can't find any specs that says it does.

Hai

I recently came across your blog and have been reading along. I thought I would leave my first comment. I don't know what to say except that I have enjoyed reading. Nice blog. I will keep visiting this blog very often.

Elaina

http://www.freearticletrove.com


shutter release

You caught us a bit off guard while we were renaming; but the process is done now. New release too! http://shutter-project.org/2009/03/shutter-070-released/

Re: capture of mouse pointer

You can capture the mouse cursor with Shutter (GScrot). To do this, go to Edit -> Preferences -> Advanced, and select Activate from the Include cursor drop-down list.

capture of mouse pointer

What feature I miss mostly in every screenshot application under Linux is capture of mouse pointer. Is there any software or switch which is capable of doing that?
comments powered by

Disqus
Issue 198/2017
Buy this issue as a PDF
Digital Issue: Price $9.99

(incl. VAT)
News
Both projects help organizations build their own containerized systems.

Mark Shuttleworth has resumed the position of CEO of Canonical.

Microsoft's open source code hosting platform CodePlex will come to an end after a more than 10-year stint.

Comes with Gnome 3.24

The bug was introduced back in 2009 and has been lurking around all this time.

The new release deprecates the sshd_config UsePrivilegeSeparation option.

Lives on as a community project

Five new systems join Dell XPS 13 Developer Edition that come with Ubuntu pre-installed.

The Skype Linux client now has almost the same capabilities that it enjoys on other platforms.

At CeBIT 2017, OpenStack Day will offer a wide range of lectures and discussions.
Tag Cloud