Turn Tomboy Notes into Blog Posts

Productivity Sauce
Jul 17, 2009 GMT
Did you know that you can post Tomboy notes to your blog courtesy of the Tomboy Blogposter plugin? If you didn't know that, it's understandable, because this plugin is not installed by default. If you are using Ubuntu or any of its derivatives, enabling this functionality is rather straightforward. First of all, use the Synaptic package manager to find and install the tomboy-blogposter package (or run the sudo apt-get install tomboy-blogposter command).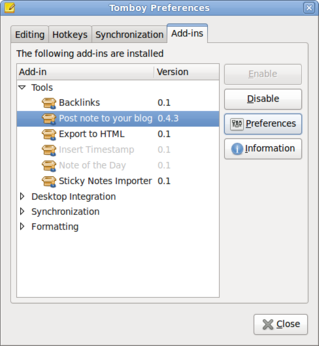 In Tomboy, open the Preferences dialog window and switch to the Add-ins section. Select the Post note to your blog item in the Tools section and press the Enable button. Press then the Preferences button to open the configuration dialog, and press Add to create a new account. In the Account Information window, fill out the required fields and press Close. Tick the Create posts as drafts check box if you want to post notes as drafts. This can come in handy if you prefer to tweak the posts further (e.g., use formatting features not available in Tomboy) before you publish them. Close the Preferences window and you are ready to go. Next time you want to publish a note to your blog, press the Tools button in the note's main toolbar and choose the Post note to your blog command. That's all there is to it.
Comments
Third

What those two guys said. Downloaded source, attempting to build. build error on gtk-sharp (installed). Oh joy o;\


Re: E: Couldn't find package tomboy-blogposter

The tomboy-blogposter package is available only in the Jaunty repositories. You can, however, install the plugin manually as described on the project's Web site: http://flukkost.nu/blog/tomboyblogposter/

E: Couldn't find package tomboy-blogposter

Got that error when using apt-get. A search in Synaptic yielded no results. Is this only available for Ubuntu 9.04? I'm using 8.10. Is there a specific repository that must be accessed? Inquiring minds want to know. Thanks.
comments powered by

Disqus
Issue 198/2017
Buy this issue as a PDF
Digital Issue: Price $9.99

(incl. VAT)
News
Both projects help organizations build their own containerized systems.

Mark Shuttleworth has resumed the position of CEO of Canonical.

Microsoft's open source code hosting platform CodePlex will come to an end after a more than 10-year stint.

Comes with Gnome 3.24

The bug was introduced back in 2009 and has been lurking around all this time.

The new release deprecates the sshd_config UsePrivilegeSeparation option.

Lives on as a community project

Five new systems join Dell XPS 13 Developer Edition that come with Ubuntu pre-installed.

The Skype Linux client now has almost the same capabilities that it enjoys on other platforms.

At CeBIT 2017, OpenStack Day will offer a wide range of lectures and discussions.
Tag Cloud