Frugalware 1.1 with Updates and Etoile
Sep 08, 2009
The distribution Frugalware Linux is now available in Version 1.1, codename Getorin. The release includes several updated software packages and is rounded out with the user environment Etoile.
Kernel 2.6.30.5, Glibs 2.10.1, Xorg 7.4 with the Xorg server 1.6, and GCC 4.4.0 are among the latest packages. Developers have configured the standard datasystem Ext3 with the setting "data=writeback" which indeed causes the system to operate more slowly, but at the same time makes it more robust. Frugalware has taken on the desktop environment Etoile which is based on GNUstep. Gnome 2.26.3 and XFCE 4.6.1 are additional components found on this release.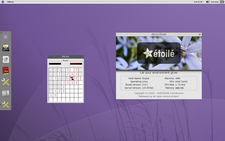 The distribution Frugalware being keen on the most current technology, has gone with x86 processors which are newer than Pentium Pro, and AMD64 CPUs. The most current release offers a 64 bit Flash plug-in. The packet management software of choice is Pacman from the Arch Linux project.
ISO images for Frugalware Linux 1.1 have several mirrors available for download.Instructions as to which images are required for which installation method can be here.
comments powered by

Disqus

Issue 199/2017
Buy this issue as a PDF
Digital Issue: Price $9.99

(incl. VAT)
News
Both projects help organizations build their own containerized systems.

Mark Shuttleworth has resumed the position of CEO of Canonical.

Microsoft's open source code hosting platform CodePlex will come to an end after a more than 10-year stint.

Comes with Gnome 3.24

The bug was introduced back in 2009 and has been lurking around all this time.

The new release deprecates the sshd_config UsePrivilegeSeparation option.

Lives on as a community project

Five new systems join Dell XPS 13 Developer Edition that come with Ubuntu pre-installed.

The Skype Linux client now has almost the same capabilities that it enjoys on other platforms.

At CeBIT 2017, OpenStack Day will offer a wide range of lectures and discussions.
Tag Cloud