Open Source World Map
Apr 22, 2009
In association with the Georgia Institute of Technology, Red Hat has carried out an open source index study and published it in the form of a world map.
The study ascertains the level of open source development in over 75 countries and measures the potential for the spread of free software in each land. Red Hat has given the project the name Open Source Index. More information about the study is available here as PDF and raw data can be downloaded from the Red Hat homepage. The study is available under the Creative Commons Attribution Share Alike License 3.0 (CC By SA). On its homepage, Red Hat encourages viewers of the study to come to their own conclusions.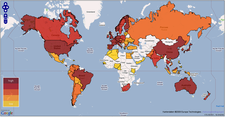 From the gathered data, Red Hat has created two world maps. The Activity Map shows the level of actual active open source development present in each country, calculating an average value from the three areas of study, community, industry and government. France leads with first place in the government and third place in the community categories, with Spain and Germany closely following. The number one position in the community category was taken by Estland, followed by North America.
The Environment Map displays the amount of open source potential found in each country. Evaluating factors were among others; Internet penetration and the availability of technologies (patents). According to the study, Sweden has the greatest potential for open source development, followed by the USA, Norway and then Denmark.
comments powered by

Disqus

Issue 212/Features
Buy this issue as a PDF
Digital Issue: Price $9.99

(incl. VAT)