Qimo For Kids, the Linux distro aimed at educating children, today received a minor upgrade in the form of Qimo 2.0.
Qimo 2.0 features support for multiple accounts and replaces the eToys application on the launcher with Laby, a educational game that teaches children the basics of programming. A new character is introduced to the Qimo environment. Illa (pronounced 'ee-la') is a polar bear.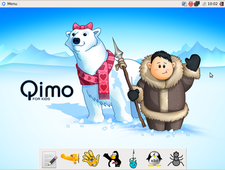 Qimo is based on Xubuntu Linux. If you're already using Ubuntu 10.04, Qimo can be run within your existing OS by using Apt-get or Synaptic to add the qimo-session package from the Universe repository. Qimo 2.0 can be dowloaded via BitTorrent and mirrored at USF, NiuX, and the University Roma.