Based on the Webkit engine, the KDE browser Rekonq concentrates on providing the best possible web experience. Version 0.4.0 comes with a variety of new features.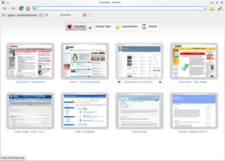 Andrea Diamanti has released a new version of his Webkit engine, Rekonq. New features include an ad-blocker, password controller and support for kwallet, FTP and file handling and an option that enables Flash and other media plugins to be loaded when needed.
Default browser for KDE?
Most Rekonq fans would like to see the slimline browser as standard in KDE 4.5 or 4.6. For this to happen, the former one-man project has to improve its integration into the KDE community. This is why Andrea Diamanti will soon be speaking with the KDE Project to get his codebase transferred from the Playground repository to KDE Extragear. The move also complies with a condition laid down by the openSUSE project.
Many KDE developers appear doubtful if Rekonq could ever serve as a true replacement for Konqueror. The Webkit browser has no KIO slave support and besides, no one inside KDE really wants to maintain two browsers.