USENIX LISA: Ted T'so Helps with System Crashes and Presents SystemTap
Nov 12, 2008
Linux kernel developer Ted T'so shared his know-how in a number of tutorials at the USENIX LISA conference in San Diego. One theme was getting first help for system crashes, and in the process, he took the opportunity to present SystemTap.
"Don't panic," thus the first advice from T'so in his presentation on hardware crashes. Never spare time with his second advice: "make backups!" T'so himself puts a lot of weight in scripts to secure data, but he also points to open source solutions like Amanda and Sync, or commercial variants like BRU and Arkeia. After presenting a few possible hardware catastrophe scenarios ("Linux hardware can do some pretty creative crashing"), T'so suggests looking for causes at the lowest level. "I apologize" he says, "but I have to admit that Linux error messages aren't among the most sysadmin friendly." His suggestion is to integrate kernel log messages into the search.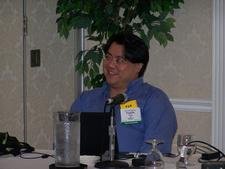 His first solution is to use the image backup as a way to rescue at least what's left. T'so suggests having a good handle on the material to help in resolving problems. One area is understanding hard disk partitions and Logical Volume Manager (LVM), where T'so spent some time in an overview on filesystem monitoring. His example of an effective file recovery system is e2fsck, part of the Linux ext filesystem. His encouraging conclusion was, if you know where the problem emanated and if you take the proper care, most data recovery will be successful.
During his afternoon session, Ted T'so, also representing the Linux Foundation, launched into presenting SystemTap, a new developer tool. The software package targets technical support folks who can use it to tap into Linux kernel data noninvasively. T'so points to its effectiveness even in its current early phases. He cautions against using any of the other tools currently shipped with products, especially the enterprise versions where updates are few and far between.
Detailed information on SystemTap is available in the Sourceware wiki, which includes an FAQ and advice pages. Upcoming versions of SystemTap should include a Script Toolchest, and the wiki contains informtion on it already.
Comments
prepositions

Thank you for the hint, I've corrected it.

prepositions

"SystemTap, a new developer tool **from** the Linux Foundation"

I don't think so.

comments powered by

Disqus

Issue 199/2017
Buy this issue as a PDF
Digital Issue: Price $9.99

(incl. VAT)
News
Both projects help organizations build their own containerized systems.

Mark Shuttleworth has resumed the position of CEO of Canonical.

Microsoft's open source code hosting platform CodePlex will come to an end after a more than 10-year stint.

Comes with Gnome 3.24

The bug was introduced back in 2009 and has been lurking around all this time.

The new release deprecates the sshd_config UsePrivilegeSeparation option.

Lives on as a community project

Five new systems join Dell XPS 13 Developer Edition that come with Ubuntu pre-installed.

The Skype Linux client now has almost the same capabilities that it enjoys on other platforms.

At CeBIT 2017, OpenStack Day will offer a wide range of lectures and discussions.
Tag Cloud