Issue #198 / May 2017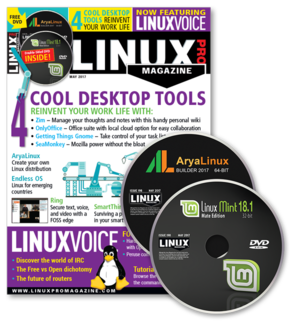 DVD: Linux Mint 18.1 MATE (32-bit Live) & AryaLinux Builder 2017 (64-bit Live)
Approximate on sale dates:
UK/Europe: Apr 01
USA/Canada: Apr 28
Australia: May 29
Highlights:
If you're like many Linux users, that perfect desktop tool you really need does not always appear in your default configuration. The Linux repositories are a treasure trove of interesting and practical applications, and we highlight four in this issue: the Zim personal wiki, OnlyOffice, Getting Things Gnome, and Mozilla's SeaMonkey Internet suite.
Also inside:
• Subgraph – a privacyconscious OS that doesn't require an expert.
• AryaLinux – A Linux distro designed for users who want to roll their own system from source code.
You'll find lots more in LinuxVoice, including a look at the Linux Embedded Development Environment and how it will shape the future of Linux routers.
Make it Better
Sir Tim Berners-Lee has something to say about the state of the World Wide Web. What does he know about the Web? Lots, because he invented it.
Linux Mint 18.1 MATE (32-bit Live) and AryaLinux Builder 2017 (64-bit Live)
Updates on technologies, trends, and tools
Chronicler Zack Brown reports on the latest news, views, dilemmas, and developments within the Linux kernel community.
COVER STORIES: Zim
Zim, the cross-platform desktop wiki
Organize your ideas, notes, and shopping lists with Zim, a handy tool that enshrines the principle of the wiki on your Linux, Mac OS, or Windows desktop.
Introducing the emerging office suite, OnlyOffice Desktop Editor
The OnlyOffice Desktop Editor is a free office suite built for collaboration.
Self-organization with Getting Things Gnome
Getting Things Gnome helps with getting things done. Users can enter outstanding tasks and assign keywords and completion dates to their task lists in the foreground.
Leaner surfing with the SeaMonkey Internet Suite
SeaMonkey is a lean and time-tested alternative for web, mail, IM, and address management that supports Firefox plugins.
Graphical desktop front ends for KVM and Qemu
If you want to care for a zoo full of exotic KVM guest systems on your desktop, you could use a little help from a graphical front end.
Endless OS – A PC for Emerging Countries
Endless OS is a Debian-based Linux for users who might not have access to the Internet.
Subgraph OS – Adversary-resistant computing platform
Kid-tested and Snowden approved – is Subgraph, the privacy-oriented OS, now ready for humans?
Converting font formats
Perform trouble-free font conversions from the command line with an easy-to-use script.
Hybrid image mode for Knoppix 8.0
As DVD drives disappear from modern notebook computers, Knoppix offers a hybrid image mode that works for both DVDs and flash drives.
Create your own Linux distribution
Linux systems out of the box are a dime a dozen. But if you want a customized system, you will certainly see the benefit of AryaLinux, which lets you put together an individualized system from the sources.
Mastering a power outage in the smart home
A power failure can cause the IQ of a smart home to plummet suddenly. An emergency power supply and a script on the SmartThings platform can prevent a total outage and inform the owner. The polyglot Perlmeister embarks on a foray into the territory of the Groovy scripting language in this issue.
The sys admin's daily grind – Mosquitto
Sys admin Charly does not tend toward hostilities, but he has huge problems with mosquitoes. Despite this, he does make an exception for the Mosquitto message broker.
Free, secure universal communication software
In the last few years, secure text, voice, and video transmission have become major areas of free software development. One of the leaders in this field is Ring.
Introduction
This month in Linux Voice.
LINUX VOICE: News
The Linux Voice view on what's going on in the world of Free Software.
No matter what the zealots say, Free Software and Open Source occupy common ground.
How do you charge for something that is free? Just ask!
FOSS and FOH
Free hardware is a noble concept, but expenses associated with the hardware manufacturing process means your single-board system will never be quite as a free as the software that runs on it.
Discover the World of IRC
Drop Discord. Say goodbye to Slack. The real way to communicate online is IRC – here's why it still rocks.
LEDE
Ben Everard investigates the future of Linux-based routers.
Capabilities
Everyone wants to be root, because root can do anything. But in fact, its powers are now split. Learn more in this overview of capability sets.
Sparkling gems and new releases from the world of Free and Open Source Software
Command Line
Not only is it possible to browse the web from the CLI, it's mightily useful, too, as we demonstrate in this article.

Issue 199/2017
Buy this issue as a PDF
Digital Issue: Price $9.99

(incl. VAT)
News
Both projects help organizations build their own containerized systems.

Mark Shuttleworth has resumed the position of CEO of Canonical.

Microsoft's open source code hosting platform CodePlex will come to an end after a more than 10-year stint.

Comes with Gnome 3.24

The bug was introduced back in 2009 and has been lurking around all this time.

The new release deprecates the sshd_config UsePrivilegeSeparation option.

Lives on as a community project

Five new systems join Dell XPS 13 Developer Edition that come with Ubuntu pre-installed.

The Skype Linux client now has almost the same capabilities that it enjoys on other platforms.

At CeBIT 2017, OpenStack Day will offer a wide range of lectures and discussions.
Tag Cloud