Making tracks with the Jokosher audio editor
Extending Jokosher
Beyond the basics, Jokosher is extensible [4]. It has a plugin structure that you can set up by clicking on Extensions | Manage Extensions to add, remove, or enable extensions for use. If the plugin is configurable, the Settings button is enabled.
More extensions are presented on the developer page of the project website [5] and in the Jokosher user forum [6]. Of these, I really enjoyed the "Freesound search" plugin (Figure 6), which helps users choose from an impressive selection of freely usable samples from the Freesound database (see the "Freesound" box).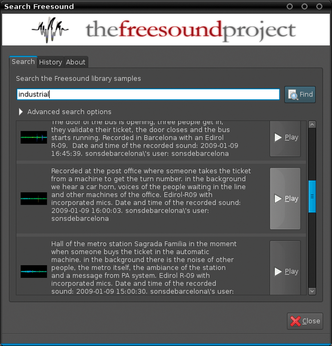 Freesound [7] is a database in which users have put a huge collection of samples, sounds, and noises that are freely usable, in contrast to commercial sound libraries. The samples are licensed under the Creative Commons Sampling Plus license, which allows their use for commercial and non-commercial purposes [8].
Restrictions
Despite some very good approaches and solutions in Jokosher, some criticism remains. The lack of a vertical zoom function turned out to be highly impractical. Although you can change the width of a track in the main window, the height remains unchanged. In the mixer view you can't scale tracks in either vertical or horizontal direction, and this keeps users running back to the main view to edit work.
It is impractical and downright annoying that you cannot select multiple track takes to move them at the same time. To add a sound or an edit at the start of a composition you have created, you are forced to move each track separately.
Conclusions
For a deeper look at Jokosher, check out the program documentation [9]. Despite its current weaknesses, Jokosher seems quite advanced. The program shows huge potential for becoming a serious alternative to more established programs such as Audacity.
All told, Jokosher is a powerful audio editor for budding musicians and audio amateurs. The intuitive controls and attractive design make Jokosher a good option for smaller projects that don't require a lot of editing.
comments powered by

Disqus
News
Both projects help organizations build their own containerized systems.

Mark Shuttleworth has resumed the position of CEO of Canonical.

Microsoft's open source code hosting platform CodePlex will come to an end after a more than 10-year stint.

Comes with Gnome 3.24

The bug was introduced back in 2009 and has been lurking around all this time.

The new release deprecates the sshd_config UsePrivilegeSeparation option.

Lives on as a community project

Five new systems join Dell XPS 13 Developer Edition that come with Ubuntu pre-installed.

The Skype Linux client now has almost the same capabilities that it enjoys on other platforms.

At CeBIT 2017, OpenStack Day will offer a wide range of lectures and discussions.
Tag Cloud