Getting around with the Avant Window Navigator
Applets and Themes
Applets and themes make the software even more attractive. In addition to icons that let you launch programs, applets handle specific tasks, just like in the Gnome panel. For example, a button will take you to Last.fm, another pops up a transparent console on-screen, and a third brings a visually appealing start menu to life – just to name a few.
To use these Awn extensions, you need the add-on package avant-window-navigator-extras. This extra package did not make the official software repository until Ubuntu 8.10. OpenSUSE includes the package, but the applets failed to work in our lab.
To use a current version with applets and fewer bugs, Ubuntu users can add the Extras repository as a package source [3] and install the latest Awn developer version (trunk). First you need to remove the previous version and delete the configuration (see "Deleting the Configuration" box). The Applets tab in Awn Manager then lets you configure the helpers.
Users of openSUSE 11 will need to build from scratch for a more recent version. The Awn Extras website [4] has details of the build and dependencies. Also, you will need to choose between the more stable Release and the more recent Development variants.
More Awn themes are available [5]. First, save the TGZ archives in a local folder and then launch the Awn Manager. In the Themes tab, click Add, browse to the TGZ archive, and click OK. Awn tells you that you have successfully installed the theme and displays it in the Themes tab (Figure 6). Now you can click on your choice of new clothes and press Apply to try out the theme.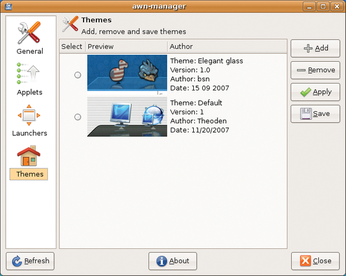 Deleting the Configuration
Before you can install a new panel version, you need to delete the existing Awn configuration to avoid a mess. To do so, pop up a console, type rm -fdR ~/.config/awn, then remove the Gnome configuration settings with the gconftool-2 --recursive-unset /apps/avant-window-navigator command. The new Awn version will start without legacy settings after you do so.
Conclusions
Awn adds a touch of glamour to the desktop. Although the software has some shortcomings, they are not too drastic. Ubuntu users can load a more sophisticated Awn variant with applets from an external repository, but openSUSE users need to invest more of their time to build the current version.
comments powered by

Disqus