An up-to-date overview of free software and its makers
Role Models
If you are familiar with Firefox, you will appreciate the integrated direct search feature. Again, Songbird emulates its role model from the Internet world. The search field, top right in the window, does not pass your search keys to an engine like Google or Yahoo; rather, it searches the internal media store, the Songbird website, the SkreemR MP3 search service, or the The Hype Machine, a music blog aggregator. If the Songbird window with its many features takes up too much space on your desktop, you can use Mini mode, which reduces the program to a single line containing just the controls and the title of the current track.
Friends of the veteran MP3 player, XMMS, or its Windows predecessor Winamp, will be familiar with this view mode, and it is no coincidence. After all, the Songbird team not only includes former Netscape and Firefox developers, but also some migrants from the Winamp camp.
Changing Feathers
Whether you like the Songbird interface design or not is a question of taste, and there's no arguing taste. Despite this, when it comes to an application that is used primarily for pleasure, the look is very important for many users. Fortunately, if you don't like the standard skin, you can customize Songbird.
Like other music players, Songbird supports themes or skins, although the developers have chosen a more exotic term for what is basically the same thing: feathers. Right now, the official site has just 18 feathers available for download. Whether or not the community provides more will depend on the extent to which it embraces the new program (Figure 3).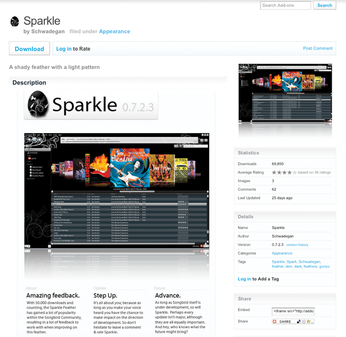 comments powered by

Disqus
News
Both projects help organizations build their own containerized systems.

Mark Shuttleworth has resumed the position of CEO of Canonical.

Microsoft's open source code hosting platform CodePlex will come to an end after a more than 10-year stint.

Comes with Gnome 3.24

The bug was introduced back in 2009 and has been lurking around all this time.

The new release deprecates the sshd_config UsePrivilegeSeparation option.

Lives on as a community project

Five new systems join Dell XPS 13 Developer Edition that come with Ubuntu pre-installed.

The Skype Linux client now has almost the same capabilities that it enjoys on other platforms.

At CeBIT 2017, OpenStack Day will offer a wide range of lectures and discussions.
Tag Cloud