LynxSecure 2.0 with Multicore Support
Nov 26, 2008
California embedded software firm LynuxWorks has updated its security and safety kernel to version 2.0, providing multicore support.
The company's LynxSecure 2.0 Separation Kernel and Embedded Hypervisor product partitions working data and CPU times so that the operating environment can assign dedicated resources to each quasi CPU. A processor can thereby provide hardware protection separately to each partition. As a type 1 hypervisor, LynxSecure runs directly on the hardware, whereas a type 2 hypervisor runs within an OS.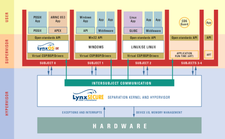 Programmers can thereby get applications to the required protection level by using a lightweight and OS-independent runtime environment. Such applications would follow the guidelines of the international secure product certification known as the Common Criteria for Information Technology Security Evaluation, or CC for short, up to evaluation assurance level 7. A number of government entities have subscribed to this certification process, notably the National Information Assurance Partnership of the U.S. Defense Department.
LynxSecure is based on the real-time LynxOS from LynuxWorks, whose current version is 5.0 and which, in turn, is based on Linux Kernel 2.6 and GCC 3.4.3.
comments powered by

Disqus

Issue 230/2020
Buy this issue as a PDF
Digital Issue: Price $12.99

(incl. VAT)