Issue #222 / May 2019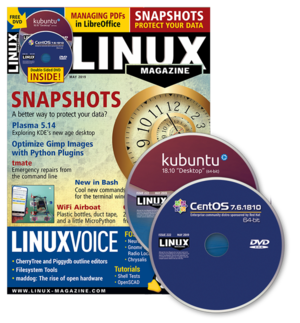 DVD: CentOS 7.6.1810 and Kubuntu 18.10
Approximate on sale dates:
UK/Europe: Mar 30
USA/Canada: Apr 26
Australia: May 27
Highlights:
Modern filesystems make it easy to take a snapshot -- a precise copy of your data at a moment in time. This month we review some leading Linux snapshot tools.
Also in this issue:
Redundant Internet Links -- With a little help from OpenWrt, you can support two Internet uplinks from your little home router.
tmate -- access a remote shell session.
Stop by MakerSpace to build your own WiFi-controlled airboat. Check out LinuxVoice for a helpful tutorial on Bash test conditions and a study of two useful outline tools: CherryTree and Piggydb.
Big Deal
When I started this job 15 years ago, Debian was a really big deal. The whole Linux community paid attention to Debian elections, and this magazine even had a regular monthly column devoted to Debian affairs. It would not be an exaggeration to reveal that I even knew a guy who had the Debian spiral tattooed on his neck.
This month's DVD includes CentOS 7.6 (1810) and Kubuntu 18.10 "Cosmic Cuttlefish."
In the news: VMware rolls out essential PKS; Linux 5.0 is here; Kali Linux 2019.1 is available; Linux Foundation releases a new draft of OpenChain specification; hackers start exploiting a Drupal bug; LibreOffice is vulnerable to a remote code execution flaw; and an early warning system for seismic events.
Chronicler Zack Brown reports on printk() wrangling, persistent memory as a generalized resource, making Kernel headers available on running systems, and Kernel licensing Hell.
Choosing a storage snapshot tool
Experts agree that you should keep a copy of your data, but restoring from incremental backups takes time and sometimes doesn't work as expected. Alternatively, you can capture your data in a snapshot. Read on for a review of some leading Linux snapshot tools.
The best Plasma ever
KDE Plasma 5.14 brings some highly visible improvements for KDE users.
Redundant Internet connections on consumer hardware with OpenWrt and Mwan3
Redundant Internet uplinks are standard on big corporate networks, but they are still the exception for the home and small-office sector. If you're ready to experiment, you can set up redundant Internet connections on your own home router with OpenWrt and the powerful Mwan3 extension.
Simplifying and improving standard commands
As the standard core Linux commands have become more complex due to revisions, new commands have risen to take their place. Bruce looks at seven of these modern commands, plus a terminal emulator.
At the First Click
Sys admin columnist Charly freely admits that he doesn't like SQL and phpMyAdmin any more than he does COBOL. Instead, meet his new best friend; the slim, attractive database tool known as Adminer.
Gimp image optimization with Python plugins
Performing the same Gimp image processing steps again and again is tiresome and error prone. Mike Schilli assigns this task to a Python script via a home grown new menu entry.
Emergency shell access with tmate
Tmate lets you access the shell session of a remote computer – even through a router.
PDF types in LibreOffice
With LibreOffice, you can customize the way you export PDFs.
MicroPython and ESP8266 Airboat
An airboat project uses a standalone WiFi web server for remote control.
Choosing the right board
When it comes to open hardware projects, the choice of an Arduino or a Raspberry Pi board can determine success or failure. Read on for guidance in selecting the best board for your specific needs.
This month in Linux Voice.
A promise of open hardware
After 25 years of waiting for open hardware, Maddog predicts the era of closed, proprietary chips as the only option is drawing to an end.
Comparing the CherryTree and Piggydb outline editors
Organize your thoughts with the CherryTree desktop app and an innovative web application called Piggydb.
Identify mounted filesystems
Tools like mount and findmnt reveal which partitions and filesystems are mounted on your computer.
This month Graham looks at Neuronify, Undervolt GUI, Entropy Piano Tuner, Gnome Internet Radio Locator, Hatari, and more!
Shell test conditions and exit codes
The Bash shell uses different criteria to make decisions. Learn how to teach your shell scripts to make the right choice.
3D Designer
Ah! What a joy your first 3D printer … but once you have printed your first benchy, where do you go from there? To building your own pieces, of course!

Issue 222/2019
Buy this issue as a PDF
Digital Issue: Price $12.99

(incl. VAT)