Issue #220 / Mar 2019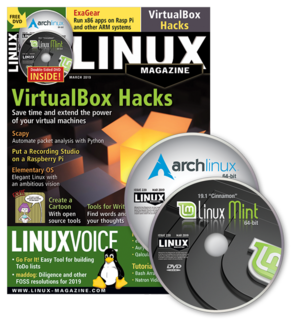 DVD: Linux Mint 19.01 "Cinnamon" and ArchLinux
Approximate on sale dates:
UK/Europe: Feb 02
USA/Canada: Mar 01
Australia: Apr 01
Highlights:
The FOSS tool known as VirtualBox is a popular alternative for easy virtualization in Linux. Many users are satisfied to spin up a virtual machine and start a system inside it, but VirtualBox can do so much more. We show you some advanced tricks with VirtualBox.
Also in this Month's issue:
Scapy – This cool packet analysis app integrates easily with Python, which lets you build packet analysis into your homegrown admin scripts.
Programming Snapshot – Mike Schilli explores the joys of building a homegrown progress bar.
Check out MakerSpace to learn how you can use Waveform 9 to turn your Rasp Pi into a recording studio, and read on to LinuxVoice for a special article by Elvie cartoonist Mark Crutch on how you can create your own cartoon strip using open source tools.
Before You Sign
Noncompete agreements have been around for years, but they seem to be experiencing a surge in popularity. Employers love noncompete agreements because they reduce the power of the employee to bargain for higher wages. Interestingly, noncompete clauses should really be anathema to both so-called conservatives (because they interfere with competition) and so-called liberals (because they diminish the rights of workers), but they seem to have taken hold throughout the developed world, and most governments appear unwilling to confront the problem in a comprehensive way.
Linux Mint 19.1 "Cinnamon" and Arch Linux
GitHub offers free private repositories, Linus Torvalds welcomes 2019 with Linux 5, SQLite database vulnerable, hacks abound, Kubernetes vulnerability found and fixed, and Dolphin announces new switch for composable architectures.
Useful and lesser-known features of VirtualBox
The VirtualBox virtual machine tool is a familiar sight on Linux systems, but many users don't access the full range of its powers. This article highlights some advanced features of VirtualBox that could save you some time and effort.
Exploring elementary OS
Elementary OS is an elegant Linux with a long-term vision and a focus on good design.
Open Source Tools for Writers
When it comes to writing, using the right tools can free you up to focus on your content.
Hello, Who Are You, Won't You Tell Me Your Name!
If some transactions take an inexplicably long time, you don't have to blame yourself for the delayed transmission of user data. Name resolution issues might be to blame. Sys admin Charly has three tools to study the DNS server.
A flexible, command-line pager
If you like to customize your command-line file pager, check out most.
Purifying your scanned PDF files
Having trouble reading that scanned PDF? You can add a little more contrast with some help from ImageMagick.
Python network data visualization
The Scapy packet manipulation program lets you analyze and manipulate packets to create incident response reports or examine network security.
Develop a DIY progress bar
Desktop applications, websites, and even command-line tools routinely display progress bars to keep impatient users patient during time-consuming actions. Mike Schilli shows several programming approaches for handwritten tools.
Running x86 Programs on the Rasp Pi
Some of your favorite programs might not run on Raspberry Pi because no version is available for the ARM architecture. ExaGear Desktop changes that by acting as a translator between the ARM and x86 worlds.
Keyboardio's graphical interface
Chrysalis, the graphical interface for Keyboardio's Model 01, offers an easy way to customize open hardware keyboards.
Waveform 9 turns the Rasp Pi into a recording studio
The Rasp Pi has enough performance to serve as a small digital audio workstation. Waveform 9 provides the necessary software.
FOSS goals for 2019
With the advent of 2019, Maddog makes a wish list and some resolutions for both himself and the FOSS community.
Creating a comic strip using open source tools
Did you know that the Elvie cartoon strip in this magazine is created entirely using open source software? With this behind-the-scenes look at the process, you might be inspired to create the next big webcomic.
Plan and perform your daily tasks
Is your to-do list filling up faster and faster? Go For It! helps you work your way through your task list.
This month, Graham discovered the spontaneous knotting of an agitated string while trying to untangle the mess of wires behind his PC and quickly gave up.
Complex Containers
Discover the data structures that make your shell scripts really powerful.
Track Record
Natron allows you to create eye-catching effects and combine different video clips in surprising ways, letting you build up your clips like a pro.

Issue 220/2019
Buy this issue as a PDF
Digital Issue: Price $12.99

(incl. VAT)