Issue #227 / Oct 2019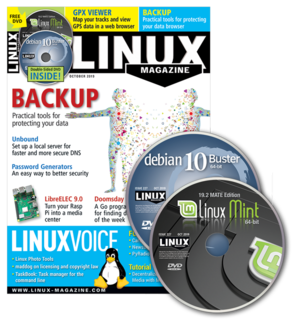 DVD: Linux Mint 19.2 "MATE Edition" and Debian 10 "Buster"
Approximate on sale dates:
UK/Europe: Aug 31
USA/Canada: Sep 27
Australia: Oct 28
Highlights:
The bad news is that disasters happen. The good news is that Linux has a variety of powerful backup tools that will protect you when disaster strikes. This month, we cover some backup apps for the†Linux environment, including Rclone, restic, and rsnapshot. Elsewhere inside:
Local DNS with Unbound – improve performance and enhance security with a local DNS server.
Jade Desktop – the creators claim this new desktop environment will "change the way you interact with your desktop."
See our MakerSpace section for a look at the LibreELEC media center distro, and check out LinuxVoice for a study of some useful and little-known photo tools.
We are here
As one who has been watching Linux for a long time, I'm saddened to mark the end of Linux Journal, which was just announced this week. I know what you're thinking – aren't they a competitor? But it isn't like that.
Linux Mint 19.2 "MATE Edition" and Debian 10 "Buster"
This month: Linux Mint 19.2 "Tina" Released; Gnome and KDE Coming Together; Fedora CoreOS Preview Released; SUSE Appoints New CEO; GitHub Blocks Access to Private Repositories in Certain Countries; and A New Ransomware Targeting Linux-Based NAS Devices.
Zack Brown reports on communicating with Linux during bootup, pruning SuperH, and bug hunting for Stea.
The prpl Foundation
Mirko Lindner of the prpl Foundation discusses how vendors and chipset makers are coming together to make IoT more interoperable and secure.
Rclone as a helper for external backups
Backups for critical data have to withstand major disasters. Rclone, a descendant of Rsync, enables easy backups to the cloud and supports many services.
Backup with restic
Many users still find it difficult to regularly back up their data. Thanks to restic, and its graphical front end, Restatic, a backup is quite easy to manage – even for a beginner.
Automatic backups to external media
A recent backup is more reliable than any kind of data rescue. But for many users, a backup won't happen unless the process is easy to manage.
GPX viewer
With GPX Viewer you can map GPX tracks and view GPS data in a web browser. It's a simple way to revisit a recent vacation, organize your photos, or map your favorite bike routes.
Memorable but secure passwords
CLI tools for generating passwords have many options that can help you strike a balance between ease of use and security.
Calculating weekdays and dates with Go
Math wizards amaze audiences by naming the day of the week for any date called out by the audience. Mike Schilli writes a training program in Go to turn amateurs into headline performers.
Setting up a local DNS server with Unbound
You don't have to be satisfied with your ISP's slow and cumbersome DNS server. Your own Unbound server could improve performance as well as security.
IN-DEPTH: Jade
Try out the Jade desktop environment
This new desktop environment strives to offer something different, and while the design isn't for everyone, it does introduce a couple of interesting features.
Firewall management
Managing a firewall can be a hassle, but it's worse to manage a breach because you didn't have one.
Shimmer dimmer
You don't have to be a vampire to be sensitive to bright light at night. Charly, who – as regular readers know – is a practicing light conservationist, now makes it clear to his desktop PC that it's not good to be too dazzling at night.
Open hardware and crowdfunding
Open hardware and crowdfunding are a natural fit. While their relationship has evolved over time, crowdfunding continues to play a big role in open hardware development.
Streaming services on LibreELEC 9.0 with Kodi 18.0
Thanks to Kodi 18.0, LibreELEC 9.0 now supports the DRM encryption used by many streaming services. However, integrating Netflix, Amazon, and other streaming services does involve some manual work.
This month in Linux Voice.
Copyright law and licensing on the Internet
Despite the common assumption, everything online is not in the public domain.
DIY photography tools
DIY tools and shell scripts can make for a smooth photographic workflow on Linux.
Managing your tasks at the command line with TaskBook
Boost your productivity from the Linux command line with the TaskBook task manager and note board.
This month Graham looks at Cartes du Ciel, Foliate, Newsboat, xinput-gui, DevilutionX, Performous, and much more!

Issue 36: Getting Started with Linux – /Special Editions
Buy this issue as a PDF
Digital Issue: Price $15.99

(incl. VAT)