Issue #224 / Jul 2019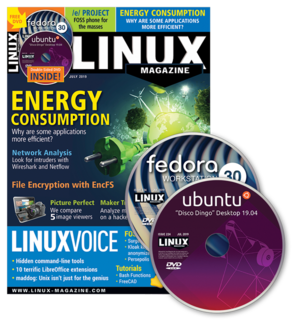 DVD: Ubuntu 19.04 and Fedora 30
Approximate on sale dates:
UK/Europe: Jun 01
USA/Canada: Jun 28
Australia: Jul 29
Highlights:
Energy efficiency studies often focus on hardware, but what about the software? As it turns out, software tools created for similar tasks sometimes use energy very differently. Also in this month's issue:
Barrier -- declutter your desk with a free tool that lets you operate multiple computers with one keyboard and one mouse.
Network Analysis -- Search for intruders with tcpdump, Wireshark, and NetFlow.
Check out MakerSpace for a look at malware analysis on the Raspberry Pi, as well as a study of Amazon's Greengrass IoT services. This month in Linux Voice, we highlight some unsung command-line tools and explore some useful LibreOffice extensions.
Small Crack in the Garden Wall
A news story is breaking as we send this issue to press, and since this column is always the last thing I do, I find myself with a quiet moment to reflect.
Ubuntu 19.04 "Disco Dingo" Desktop and Fedora 30 Workstation
Updates on technologies, trends, and tools
Fedora Project announces Fedora 30; the Apache Software Foundation completes migration to GitHub; Canonical combines its services in a single package; Black Hole Image has an open source connection; Ubuntu 19.04 released; Linux Mint founder calls for better developer support; and VMware patches critical vulnerabilities.
Improving the Android low memory killer; randomizing the Kernel stack; and best practices.
Evaluating the environmental impact of software
It's getting easier to measure the environmental impact of software. A new study suggests criteria for determining how the choice of software impacts resource use.
Comparing image viewers for photographers
For today's photographers, image viewer programs are an essential piece of equipment, because they can help you quickly load and sort your photo and video files. We compare some of the top image viewers.
Troubleshooting HTTPS connections with mitmproxy
Finding the data zipping back and forth between the browser and server is not only interesting for snooping spies, but also for debugging developers. Mike Schilli gets you started with mitmproxy and shows how to customize it using Python scripts.
File encryption with EncFS
EncFS is an easy and effective CLI application for encrypting files that also allows for customization.
Big Cat to the Rescue
Sys admin columnist Charly enumerates the computers in his household and makes it clear that commuting between them would be an unreasonable burden on his personal energy balance. Instead he lets a tiger go the distance for him.
Share input devices between computers with Barrier
Barrier is a Synergy fork that lets you work with one keyboard and mouse pair on multiple Linux, Mac OS X, or Windows computers.
A study in detecting network intruders
The nightmare of any admin is a user who can't resisting clicking on an unknown attachment labeled Application.exe. This article draws on a real-world example to show how you can use built-in Linux resources to detect unauthorized traffic that might have been invited in by a trigger-happy user.
Analyzing a malicious Raspberry Pi Bash script
Analyze malware on hacked Raspberry Pis and create a signature to detect malware in log entries.
Raspberry Pi on the IoT
The Amazon Web Services command-line interface and the Amazon Greengrass IoT Core services read and merge Raspberry Pi sensor data.
Update on a new free phone
With a name change, Gaël Duval's quest for a free phone with supporting infrastructure rapidly moves ahead.
Introduction
This month in Linux Voice.
Ten useful LibreOffice extensions
LibreOffice has hundreds of options and features, but these handy extensions make it even more convenient.
One weekend this month, Graham's synth obsession took him 600 miles in a rental car into ancient Cornwall to buy a beat-up old 1980s MIDIBoard. Stay tuned for a Linux editor! Graham looks at Surge, fd, Kloak keystroke anonymizer, Symphytum, uMatrix,†and more!
Organizing and reusing Bash code
Learn how to make your Bash code more readable, robust, and reusable by managing the code within your Bash scripts.
Technical 3D design using FreeCAD
Designing simple shapes in OpenSCAD is easy, but if you want to print complex machines with multiple interlocking pieces, you need to bring out the big guns. That's where FreeCAD comes in handy.

Issue 224/2019
Buy this issue as a PDF
Digital Issue: Price $12.99

(incl. VAT)