Issue #67 / Jun 2006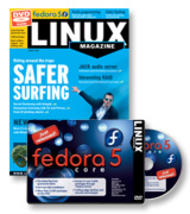 DVD: Fedora Core 5
Dear Linux Magazine Reader, I must admit I'm getting to the point where I don't like to make it easy for people to g......
INDIAN LIBRARIES EMBRACE OPEN SOURCE NATIONAL FREE SOFTWARE COMPETENCE CENTERS LEARNING OPEN SOURCE IN PRAGUE...
Staying ahead of Internet snoopers and con men
Do you know enough to surf free of the liars and spies? We'll show you how to stay ahead of the traps.
Pharming, and the threat of identity theft
The pharmers and phishers are after your precious financial infor-mation. We'll show you how to protect your interests.
Anonymous surfing with Tor and Privoxy
Internet users typically reveal their IP addresses, and this lets companies compile a profile of your Internet activities. Tor and Privoxy can help protect your privacy.
Anonymous Filesharing with Antsp2p
Filesharing is a favorite leisure activity for many Internet users. But conventional filesharing tools have one major drawback – they aren't anonymous. The Antsp2p project aims to change this.
Computer Security, Second Edition White Collar Slackers Handbook...
What's coming in Suse 10.1
For genuine Suse fans, each new release is an exciting event. But this time Novell has caused additional tension, and raised some eyebrows, with last minute changes.
Building Digital Libraries with Greenstone
The Greenstone suite helps you build your own digital library.
RAID options for the Linux desktop
Linux offers several options for fulfilling the RAID promise of fast hard disk access and data security.
Visit Our Shop
Direct Download
Tag Cloud