Issue #70 / Sep 2006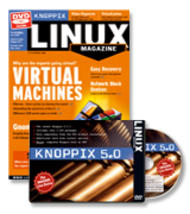 DVD: Knoppix 5.0.1
Dear Linux Magazine Reader, Computer revolutions occur every 3–5 years. Something new happens that changes everythin......
SUMMER MUSIC FROM THE NORTH INDIC OPEN SOURCE IMPASSE? BERLIN'S MIGRATION PLANS STAGGERING...
Linux in the dawn of the virtual era
Virtualization can save you time, money, and effort, but you'll need to find the right tool for the task.
COVER STORY: Xen 3
Para-virtualization in Linux with Xen 3
The Xen virtualization system is is quickly becoming a standard feature of corporate Linux. We'll show you how to get started with the latest version of Xen.
High performance virtualization with VServer
The VServer project offers a secure and highly efficient virtualization alternative.
Practical virtualization with ESX Server
Improved resource balancing, central administration, and service consolidation – you can only win with virtualization. Linux Magazine visits a communal data center for a practical look at virtualization in the workplace.
Collaboration Explained Linux Patch Management Software Security: Building Security In...
How good is the new Suse?
In the June 2006 issue of Linux Magazine, we took a look at the new features introduced by the imminent Suse version. Read on to find out if the final version is worth an update.
Virtualization with entry-level servers by IBM and Sun
The top players on the Unix server scene all include virtualization support with their operating systems. We compared two candidates from IBM and Sun.
Comparing screencast applications
Screenshots provide a static impression of an active program, whereas desktop video sequences show the software hard at work. We'll introduce you to some of the major tools for creating screencasts.
Visit Our Shop
Direct Download
Tag Cloud