Issue #79 / Jun 2007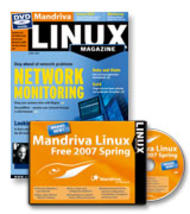 DVD: Mandriva 2007 Spring
Dear Linux Magazine Reader, A few months ago, if I had written a column that made reference to the Battle of Thermo......
ENTERING A WEBSTAGE WHY DON'T THEY DEPLOY OPEN SOURCE? GREEN OPEN SOURCE...
Removing Old Code Specifying Code Maturity in the Config System Building Under Cygwin Abortive gitw......
Vista Vibe PowerPC DVD ...
Network monitoring with Nagios
Are your systems behaving? Is your newest workstation too busy for its memory? Stay ahead of problems on your network with the free and versatile monitoring tool known as Nagios.
Watching your systems with Nagios
Nagios monitors your network and provides early warning for problems with hosts and services.
Examining the GroundWork open source monitoring tool
GroundWork is a user-friendly front-end for the Nagios monitoring tool.
IT Auditing: Using Controls to Protect Information Assets Linux Kernel in a Nutshell The Design of Sites...
Touring Sun's 3D desktop
The Looking Glass 3D desktop environment offers an exotic new view of your workspace.
KNOW-HOW: Ext4
The new Ext4 filesystem
The newest child in the Ext filesystem family provides better performance and supports bigger filesystems. Are you ready for Ext4?
Visit Our Shop
Direct Download
Tag Cloud