Issue #93 / Aug 2008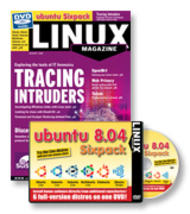 Breaking through the backup barrier
BackupPC handles backups over the network for a ranges of platforms. Find out more about this user-friendly, configurable, high-performance open source backup system.
Start programs simply by name
The Spotlight utility for the Macintosh has even the most hardened Apple fans scurrying back from the mouse to the keyboard. A short Perl script implements the utility for the Linux desktop.
LINUXUSER: Totem
Meet the Totem media player
Totem brings Hollywood to your Linux desktop. We'll show you how to get started with this movie player.
Converting and modifying audio files
Your new media player might match your new outfit, but does it use the audio files formats you have? SoundKonverter helps you easily reformat your music collection.
eyeOS and Ulteo desktops
The eyeOS and Ulteo online desktops offer different approaches to a web-based desktop, but they are both worth a closer look if you are in the market for a computing environment in the cloud.
Process and job control
What is happening on your Linux machine? Various shell commands give you details about system processes and help you control them.
Strong community, stronger software
Attracting both new and experienced Drupal users, Drupal Camp Toronto is home to a thriving community with global reach.
An up-to-date look at free software and its makers
We take a closer look at photo stitching, a photo gallery application, an audio player, and video-recording software. for a more complete summary of the article.
Visit Our Shop
Direct Download
Tag Cloud