Issue #97 / Dec 2008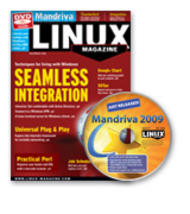 DVD: Mandriva 2009
Slim and sleek Linux distro
In a world of multi-gigabyte Linux distributions, it's refreshing to see lightweight distributions like Puppy Linux and Damn Small Linux. But even these distributions look fat next to SliTaz.
We pick the top ten Top tools
The famous Unix admin utility known as Top has many imitators. We take a look at some of the top Top tools.
Exploring the Universal Plug and Play Architecture
Universal Plug and Play provides an easy framework for seamless integration of network devices. Learn how to build your own UPnP solution using the open source BRisa framework.
Eye-catching graphics with the Google Charts API
The Google Chart API lets you draw custom graphs, charts, maps, and barcodes through a simple web interface.
Klaus Knopper is the creator of Knoppix and co-founder of the LinuxTag expo. He currently works as a teacher, programmer, and consultant. If you have a configuration problem, or if you just want to learn more about how Linux works, send your questions to: klaus@linux-magazine.com
The sys admin's daily grind: parallel SSH
Parallel SSH is the name of an easy-to-configure tool that our resident sys admin, Charly, now routinely deploys whenever he needs to launch the same programs, copy the same files, or kill the same processes simultaneously on multiple computers.
(Almost) undetectable hardware-based rootkits
We look at the history of the rootkit, including its newest incarnation, the DR RootKit.
Open Source Job Scheduler
Planning and scheduling jobs can mean a lot of work, especially if they are spread across multiple machines. Here's a tool to make that task a lot easier.
Visit Our Shop
Direct Download
Tag Cloud