Issue #97 / Dec 2008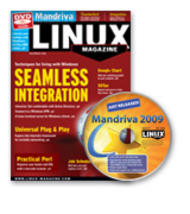 DVD: Mandriva 2009
Mandriva Linux is known around the world for easy installation and an innovative collection of configuration tools.......
International open source news
* New Manchester cafe uses free software * Celebrating Linux in Kannada * How does code dream? * Freedom not fear...
New products and updates
Professional users are always searching for an edge. Whether you work with Linux as a webmaster, programmer, system administrator, or security consultant, you know the best solution depends on finding the right tool for the job. We thought you might be interested in the following new products and
updates.
Expert techniques for living with Windows
Yes, you can do that with Linux… Even if you want to live in an open source world, it's still full of Windows. This month we study strategies for Windows integration.
Configuring VPN connections with Linux clients
Linux clients sometimes need a little help to connect to Windows VPN servers.
Easy Active Directory integration with Likewise Open
Likewise Open provides smooth integration with Active Directory environments. We show you how to install and configure the admin-friendly authentication system.
COVER STORY: xrdp
Supporting Windows terminal clients from Linux with xrdp
Xrdp helps your Windows terminal clients connect to Linux.
Visit Our Shop
Direct Download
Tag Cloud