Glimpse inside the new GIMP
Modern Art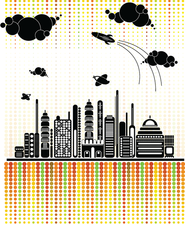 GIMP 2.6 offers exciting improvements for graphics professionals and enthusiasts alike. With this latest release of GIMP, your imagination might just have found its new best friend.
GIMP, which has long been the cornerstone of the Linux-using graphics professional, recently announced the release of version 2.6, exciting graphics professionals and enthusiasts alike. GIMP 2.6, a prelude to the final major release, is not the only significant release in GIMP's life cycle, but it does deliver far-reaching changes in the GIMP core. In this review, I'll take an in-depth look at the new GIMP.
Interface
Since the Libre meetings about a year ago, the GIMP project has gained a usability expert, a few interaction designers, and more developers, and their input is quite visible in this release. GIMP's interface, which made it unique and usable in its own right, is now being redesigned to accommodate much-needed changes. GIMP now opens up with two dock windows and an image window (Figure 1). If you have been using the previous versions, the newer and leaner interface comes as a refreshing change.
[...]
Comments
Gimp

Once upon a time I would have said integrating Gimp was a bad move. I love gimp and have a lot of scripts for converting and sizing. You tend to use individual tools of Gimp, so I have wondered sometimes should the pieces be seperated more at the GUI level, so that newer users realise that there is a lot you can do without even loading the whole program.

But actually I do like the integration, you can still script as we always did and the neater interface is nice.

But I wonder if it is as obvious to new users that there is still a lot you can do from the command line or through scripts, taks made for scripting, the old thumbnail and resized pic for your web site picture viewer. Or colour balancing enBatch.

comments powered by

Disqus