Ubuntu 8.10
Ubuntu 8.10
The powerful and practical Ubuntu Linux is known around the world for reliability and ease of use. Ubuntu's uncluttered menus deliver a smart collection of some of the best and brightest open source tools. This month's double-sided DVD comes with 32-bit and 64-bit versions of Ubuntu 8.10 "Intrepid Ibex."
New with the latest release is the Gnome 2.24 desktop, which offers better video conferencing, new themes, and improvements to the Nautilus file manager. You'll also find an improved NetworkManager utility and updates to many of the principal Ubuntu applications.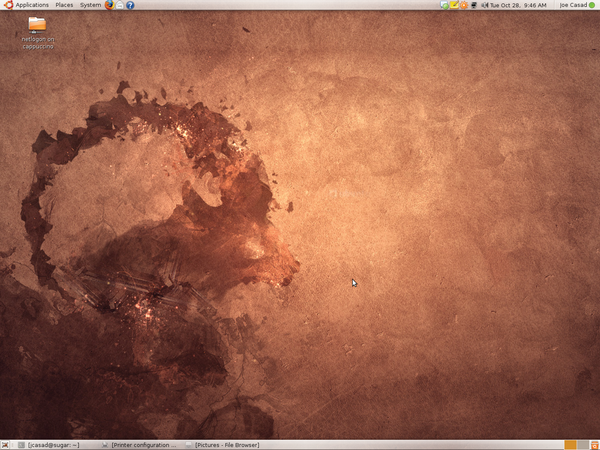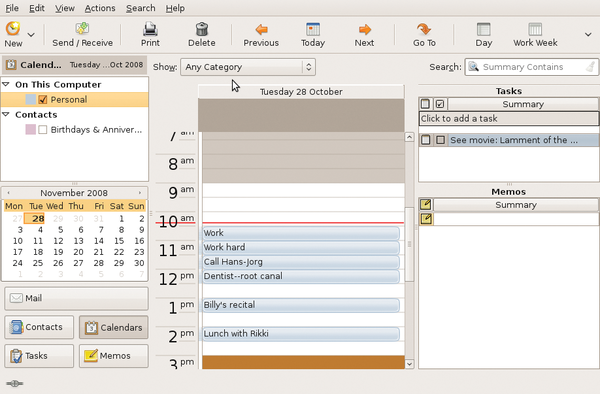 Linux kernel 2.6.27
Gnome 2.24
Synaptic 0.6.2
Nautilus 2.24.1
Evolution 2.24.1
Firefox 3.0.0
GIMP 2.6
OpenOffice 2.4.0
Brasero 0.8.2
Rhythmbox 0.11.6
Totem 2.24.2
F-Spot 0.5.0
Ekiga 2.0.12
Tomboy 0.12.0
Samba 3.2
Python 2.5.2
Processor: Runs on most Intel x86-based PCs, such as Intel Pentium and AMD Athlon
Memory: 384MB Minimum
Free Disk Space: 2GB Minimum
This DVD is a double-sided disc. A DVD device always reads the side of the disc that is facing down. This DVD is labeled like a normal DVD – the label you see as you place the disk into the tray applies to the data on the opposite side.
Comments
great post

Thanks a lot for sharing the article on cash. That's a awesome article. I enjoyed the article a lot while reading. Thanks for sharing such a wonderful article.I want to say very thank you for this great informations. now i understand about it. Thank you !
http://www.cocoschanel.com
http://www.gucciguccis.com
http://www.urboots.com
http://www.handbags2012.com
http://www.louisvuittonslv.com
http://www.uggmalls.com

Ubuntu 8.10 Ultimate Suberb Distro

Tried Kubuntu 8.04 on my crappy Gateway laptop and had loads of issues (which I'm sure could have been fixed, but being a noob it was rather off-putting) I went back to windows
Installed 8.10 (Ultimate edition) and ABSOLUTELY EVERYTHING worked out of the box. Wifi, sound, synaptics touch pad you name it, it worked.
My laptop has always had problems with partitioning software (killed my windows install every time!) but when I used the ubuntu CD for partitioning It did it in about 20 mins and left my windows partion working!

You've lost another user Mr. Gates!

Ubuntu 8.10 the best yet!

I installed ubuntu as a dual boot on my xp pro system.
Installation proceeded without a hitch. It flawlessly recognised both my HP1020 Laser and HP Deskjet F370 printers, has no trouble reading windows drives ( I can, in fact play windows music on ubuntu without conversion by using the restricted format drivers)
Wired and Wireless internet connections were present and working.
The only glitch such as it was, was a lack of sound. This was resolved by the simple expedient of trying each option in turn and was resolved within ten minutes.

So impressed I put it on my compaq laptop where it installed flawlessly setting up the OS, printers, wireless, Bluetooth, Wired ethernet and sound without a hitch.

HIGHLY RECOMMENDED. I should also point out that I am a native windows user, with limited programming and linux experience.

Ubuntu 8.10

The only hiccup I encountered was during the installation the installer asked for my name, login name and password, fine. The system restarted just fine and all seemed well but I realized that I was never asked for a root password. As expected the system has a root account with a password that I don't know! How can I setup networking and such without being able to login as root. Not to mention the security issue of having root with a password that I didn't set.

-- jim

UBUNTU 8.10 DVD

Well, after lots of investigating over Christmas, it turns out that the Ubuntu DVD was not the problem after all (see my comments of Dec 03 2008). In amongst all the software changes, my CD drive became US and it was the CD fault which caused the boot to hang. Why it suddenly misbehaved when I loaded the new version of Ubuntu I do not know but it was probably coincidence. Now that I have disconnected the CD (it was a very old one anayway) the software loads with no problem and all the benefits I mentioned in my last blogg (a working WiFi and Firefox playing BBC iPlayer media in-line etc.) are behaving nicely. Phew, I thought I was going to have to reload Windows.

ubuntu 8.1 dvd

i am totally new to linux so though i would give it a try,the dvd was used to boot my computor that normally runs xp. I was asked for user name and password which i assumed that i had to creat,not so,as any thing i put in was rejected and after a very limited time my screen was left with a single coluor background and a circle for a mouse pointer that did absolutely nothing. i had to unplug from the mains as the computor would not respond to anything else.Not immpressed so far some one tell me otherwise as i would love an alternative to windows as vista in my opinion is unusable as i am sure 7 will be.

Easy Install

The DVD with your Linux Pro Ubuntu Special Issue provided the easiest install I have ever experienced. I was running Windows XP Professional on my Toshiba Tecra A1 system unit. After running the Ubuntu demo I decided to reformat my harddrive and eliminate Windows altogether with the full Uiuntu 8.10 install The result is that I have a far more efficient system - no more hang-ups. I had tried earlier versions of SUSe some years ago but never got them to work. However, this Ubuntu 8.10 is a tremendous product. Gan de hao!

Ubuntu 8.10 Install

If the hiccup described is repeated, then this is a serious issue as with all respect to the Linux experts as more newbies are encouraged to dip a toe into the Linux ocean the the average level of expertise decreases and the ability to overcome an install problem becomes more serious

UBUNTU 8.10 DVD

This was my 7th Linux install and my 3rd Ubuntu. Two previous Ubuntu's really showed me how Linux is getting there on packaging. No more missing pre-requisites when trying to install new software.
So I took out the DVD, put it in the PC and started overcoming the installation issues as they arose.
When I last installed Ubuntu 8.04, I put the DVD into a running system (Feisty Fawn) and it recognised the DVD and started to offer helpful installation aid right away. Not this one.
Now, my DVD player seems to lie in some dark recess that the boot firmware does not reach. I can set up a boot from diskette, CD, Disk, USB disk, SCSI disk etc, but no DVD. I did manage to mount the 8.10 DVD and after some playing around, I got it to give me some options one of which declared that it could be used for just this circumstance. I used the option and a reboot brought the installation into life - sorted - or so I thought.
After reformatting (I did try the reformat a single partition option but that gave me insufficient space problems, so I reformatted the whole disk) the install ran to completion and I had a running Ubuntu 8.10. I was delighted to find some of my old gremlins were fixed. The WiFi now connected with little effort. Firefox allowed me to play the BBC video clips in-browser rather than the older download-the-file then play it outside of the browser. All was looking good.
Then I made the mistake of doing a reboot. Well you have to some time don't you?
After a long firmware pause while it looks for IDE devices it then lists the Ubuntu versions available for loading from disk, starts a load from hda0, shows the Ubuntu initialising screen but with an orange bar ranging forwards and backwards across the screen (not progressing left to right as usual), then drops out into character mode with the message:
Gave up waiting for root device
Offers some suggestions but little information about how to fix the suggestions, then displays
Busybox
Now this appears to be a shell.......but what to do now?
Does anyone know if there is a way to repair the situation? Al I can think of is to find a CD version of Linux (the helpful "fix" Ubuntu made to allow me to boot from DVD has been wiped) and install that, then start all over again on Ubuntu 8.10.......or will it happen all over again?
comments powered by

Disqus