Luminance HDR offers top-notch high dynamic range imaging
More Light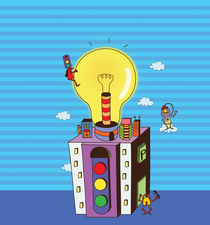 Processing images with a high dynamic range – that is, an image with a wide range of values between its bright and dark areas – is possible with open source Luminance HDR.
HDR (High Dynamic Range) image processing is a state-of-the-art technology that, in the right hands, qualifies as an art form. The images this method creates are characterized by a wide range of brightness, an amazing level of detail, and – sometimes – striking colors. Many methods, with many parameters, control the precise results. The open source program Luminance HDR [1] groups these methods in a front end; however, despite really good software, you still need a good deal of expertise to achieve impressive results. Luminance is the successor to QtPFSGui [2], a Qt4 user interface for creating HDR images.
The human eye can see many more, and in some cases finer, differences in brightness than a digital camera. HDR images can compensate for this partly, but the way we perceive these images is vastly different. A special problem arises when presenting HDR images. Both computer screens and printers have limited capability when it comes to portraying brightness differences naturally. For example, today's typical LCD monitors resolve around 256 levels of brightness for each channel (red, green, blue; 8 bit), and printers even fewer levels, which explains why many image formats – led by JPEG – only support 8 bits per color channel by default.
Digital images of this kind are known as Low Dynamic Range (LDR) images. Most image manipulation programs were developed for these images – GIMP can currently only process LDR images today. However, the KDE image manipulation program Krita [3] is an exception to the rule.
[...]
Use Express-Checkout link below to read the full article (PDF).
Read full article as PDF:
comments powered by

Disqus
Visit Our Shop
Direct Download
Read full article as PDF:
Tag Cloud