Your files will be assimilated
Command Line – BorgBackup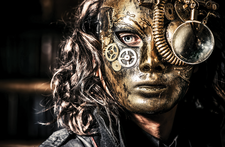 In Star Trek, the Borg adds individuals to its collective consciousness, an apt metaphor for any backup application that stores individual files in an archive. BorgBackup creates folder repositories for multiple archives, making it an especially befitting description of assimilation.
BorgBackup [1] was originally a fork of Attic [2], begun in 2015 by developers who wanted faster-paced development. Attic is no longer in development, although stable versions remain available in Debian and several other distributions. Meanwhile, BorgBackup has lived up to its mandate, not only enhancing the Attic code, but also gaining a reputation for its innovative approach. Although other compression and backup utilities have encryption, incremental, and remote options, what distinguishes BorgBackup is how it implements such features, making them more visible and easier to manipulate. For example, because an incremental backup is in a separate file from the original, it can be retrieved by itself. In many ways, BorgBackup is a modernization of long-time Linux archivers such as tar, gzip, and bzip2, offering increased efficiency and speed with its choice of compression formats and its own set of options. In addition, BorgBackup offers fine-tuned control of features, such as the compression level and the details stored in its logs, while using intelligent defaults that allow users to quickly get up and running.
BorgBackup's documentation [3] does warn that the application requires a reasonable amount of free space to operate. The exact amount, of course, depends on the size of the files it uses, but at least 2GB should be available. However, to ensure trouble-free backups, repositories should be created on filesystems with plenty of free space.
The Basics
Like an increasing number of modern command-line applications, BorgBackup's command structure consists of three parts: the basic command; a sub-command, such as create, extract, or delete; and the options and paths to a file. Many options can be used with more than one of the sub-commands and can be placed either after the sub-command or after the paths, although to avoid any confusion, users should probably use one position consistently.
[...]
Use Express-Checkout link below to read the full article (PDF).
comments powered by

Disqus
Visit Our Shop
Direct Download
Read full article as PDF:
Tag Cloud