Wireless control over a long distance with the LoRa modem
Long Range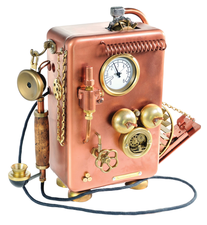 WiFi is convenient for devices that are in the same house. If you want to extend the distance, give LoRa a call.
Tell LoRa I love her… – Ricky Valence
Some variants of the Raspberry Pi come equipped with WiFi, which make them suitable for wireless data gathering and control applications in certain circumstances. However, the range of WiFi is limited, and it generally requires a WiFi-enabled router issuing IP addresses. Beyond WiFi, a number of standards exist for long range wireless communications in the 868MHz and 915MHz license-free bands that are more suitable for embedded applications. One of these license-free bands is LoRa [1], which is widely used and supported by several silicon implementations. The silicon itself is usually packaged onto modules, which are available for sale in the $20 region. These modules are often further mounted on standard PCBs and offered as development kits by the silicon manufacturers and others. This article describes how to build LoRa into a Raspberry-Pi-based telemetry system and outlines the design of a low-cost HAT for the Pi with an integrated PCB antenna (which you can build for less than $10).
Introducing LoRa
The name LoRa is derived from "Long Range," and long range is indeed one of the system's defining characteristics. One group of users claims to have achieved a 476-mile range with a transmit power of just 25mW [2]. LoRa is also low power. In the license-free ISM bands where LoRa operates [3] [4], maximum power is limited by law. But low power is often also mandated by the need for battery operation or dependence on solar energy at a remote location. So it is this combination of low power and long range that makes LoRa attractive for telemetry applications. Extreme range figures like 476 miles should be examined with a critical eye. These results are typically achieved at high altitudes with line of sight between transmitter and receiver and other optimum conditions. However, in an urban environment, ranges of up to a mile are possible with low cost, compact hardware.
[...]
Use Express-Checkout link below to read the full article (PDF).
comments powered by

Disqus
Visit Our Shop
Direct Download
Read full article as PDF: