Dell Freshens Up Its Mini 10 Netbook with Ubuntu
May 11, 2009
Dell now provides its 10" Mini 10 netbook with Ubuntu in the U.S. and Canada, with the rest of the world to follow shortly.
The Mini 10 netbook has been around with Windows XP for two months and now comes with Ubuntu at least in the U.S. and Canada, according to DELL-Anne C in Dell's community blog. The Ubuntu version costs $400, while the XP model is steeper at $500. The Linux version provides a further benefit: because the netbook isn't bound by Microsoft's requirements for Windows XP, the Mini 10 comes with a 32-GByte ($75) and even 64-GByte ($125) solid state disk (SSD) option. The 6-cell battery option ($30) gives the netbook an 8-hour battery life compared to the 3 hours or so for the standard battery, and a mid-range 3-cell option with 28 WHrs and just under 4 hours battery life is also available for $15. Last but not least, the Mini 10 provides an edge-to-edge HD display option ($35) at a 1366 x 768 resolution.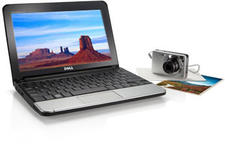 The Inspiron Minis run on the Ubuntu 8.04 Long Term Support (LTS) version, although Dell spiffed up the graphical interface somewhat and expanded the original 8.04 with NetworkManager. The Community blog page includes a short video on the Mini 10 from Doug Anson, Dell's Linux technology strategist.
Along with the built-in ATSC tuner, Dell promises that the Mini 10 will also make its appearance soon in Europe with a DVB-T tuner.
Comments
@VS Dude

You're such a microsoft shill. I saw you on Tectonic as well; peddling your drivel.

Mini 12 for the same price

Last time I checked you could get the mini 12 for $400 with Ubuntu, much better screen resultion... just something to think about.

You mean more Ubuntu forum postings!

Sorry to say but the truth is, if (and that's a big "if&quot Ubuntu does get into more hands because of this and if (again, a big "if&quot they decide not to return it, you're going to find a lot more irritated newbies in Ubuntu forums. So get ready for the deluge!

$100 difference?

Looking at the dell site - the XP version costs the same as the Ubuntu version with the same specs for $400.

In fact, the XP version comes with "Dell Online Backup 2GB for 1 year" whereas Ubuntu does not.



Hurray!

Good news, more ubuntu users is allways good for the community...
comments powered by

Disqus

Issue 199/2017
Buy this issue as a PDF
Digital Issue: Price $9.99

(incl. VAT)
News
Both projects help organizations build their own containerized systems.

Mark Shuttleworth has resumed the position of CEO of Canonical.

Microsoft's open source code hosting platform CodePlex will come to an end after a more than 10-year stint.

Comes with Gnome 3.24

The bug was introduced back in 2009 and has been lurking around all this time.

The new release deprecates the sshd_config UsePrivilegeSeparation option.

Lives on as a community project

Five new systems join Dell XPS 13 Developer Edition that come with Ubuntu pre-installed.

The Skype Linux client now has almost the same capabilities that it enjoys on other platforms.

At CeBIT 2017, OpenStack Day will offer a wide range of lectures and discussions.
Tag Cloud