Issue #94 / Sep 2008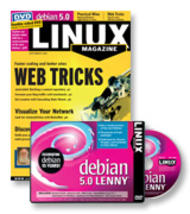 This Linux on a stick protects Windows computers
This Linux computer on a USB stick acts as a tiny mobile firewall.
KNOW-HOW: Wine
Running Windows programs on Linux with Wine
Users who move from Windows to Linux often miss some of their favorite programs and games. Wouldn't it be practical to run Windows applications on the free Linux operating system? Time for a little taste of Wine.
Creating backups with TimeVault
Many backup solutions vie for the user's attention. TimeVault follows a simple approach and integrates seamlessly with the Gnome desktop.
Klaus Knopper is the creator of Knoppix and co-founder of the LinuxTag expo. He currently works as a teacher, programmer, and consultant. If you have a configuration problem, or if you just want to learn more about how Linux works, send your questions to: klaus@linux-magazine.com
The sys admin's daily grind: Knockd
Horror stories are full of scary characters knocking on doors at night. On Linux, we just call this port knocking, and it can actually be quite useful.
Protecting your site and your clients
Learn more about protecting your website with NoScript, ModSecurity, and Site Security Policy.
Visualizing your network with RadialNet
RadialNet draws a picture of the network, helping admins identify potential security holes.
PROGRAMMING: OpenMP
Parallel Programming with OpenMP
OpenMP brings the power of multiprocessing to your C, C++, and Fortran programs.
Visit Our Shop
Direct Download
Tag Cloud