Issue #100 / Mar 2009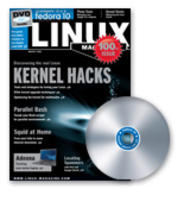 This issue's DVD brings you two great distros on one disc.
...
BBC Offers DRM-Protected Programs to Linux Users Vietnam State Agencies Go Open Source Bavarian Governm......
Via Artigo A2000 Mini-Server Runs Linux HSPA for "Theft-Proof" Laptops Linux Devices in the &......
What to do with the Linux kernel
If you get right down to it, the Linux kernel is the real Linux. This month we focus on tools for tuning and tailoring the kernel.
Techniques for upgrading and customizing the Linux kernel
If you work with third-party hardware drivers, or even if you just need to fix a broken system, someday you might need to upgrade the Linux kernel.
Tools and techniques for performance tuning in Linux
Tune up your systems and search out bottlenecks with these handy performance tools.
Multimedia Support in the Linux Kernel
We'll show you how to tune up your Linux system for multimedia applications.
Visit Our Shop
Direct Download
Tag Cloud