Browser synchronization and more with Mozilla Weave
Weaving the Web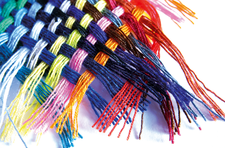 Mozilla Weave for Firefox synchronizes your critical browsing information between multiple machines.
The Firefox extension site [1] lists dozens of bookmark synchronization tools. Some sync bookmarks with a commercial service, like the Web bookmarks site Delicious; others sync with private storage, such as a WebDAV or FTP server that you maintain. Weave gives you an option – you can set up a free account at the newly launched services.mozilla.com, or you can run your own server using the open source Weave server code. Your initial choice does not handcuff you, either – migrating between services.mozilla.com and a private server is as simple as entering your new account credentials and performing a sync.
Furthermore, your privacy is protected no matter where you store your remote data. The Weave extension encrypts everything on the client side with public-key encryption before it is transmitted, and your key is never sent over the network. You can use Weave between multiple machines, including not just Firefox on desktops and laptops, but the mobile browser Fennec as well.
Weave is an ongoing project from Mozilla's Mozilla Labs [2] test bed site, and although the current release focuses on synchronization, in the future, Weave will be able to do much more. The underlying engine supports machine-readable microformats, which makes real data mash-ups possible, and developers can write add-ons with the help of the Weave API.
[...]
Comments
Firefox - Weaving the Web

It is worth mentioning that a standard Opera feature, Opera Link, offers a similar synchronisation service for Bookmarks, Speed Dial, Personal Bar, Notes and Typed browser history.

I have been using Opera Link since 2007 to synchronise the browsing experience between my desktop computers and mobile phone, it works really well.

Opera rarely seem to get credit for pushing such developments, I don't know if it is because they are not Open Source (at least it is free) but the press never seem to give them the recognition or plaudits that they deserve. Mozilla Weave is a case in point (and Fennec will be the next despite the fact that Opera Mini has been around since 2006).

Nick Elliott
comments powered by

Disqus