Analyzing hosts and networks with Nmap
Critical Eye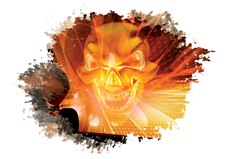 In "The Matrix Reloaded," Trinity uses Nmap to hack into the power grid to pave Neo's way to the architect of the virtual world. However, the port scanner is also ideal for more mundane purposes – such as discovering vulnerabilities in your domestic network.
Nmap (Network Mapper) [1] discovers computers, services, and vulnerabilities on a network. The port scanner, which is implemented in C++ is GPLv2 licensed and runs on all major operating systems. Nmap has been developed since 1996 by Gordon "Fyodor" Lyon of Insecure.Org. Nmap has appeared in 12 movies, including "The Matrix Reloaded," "Die Hard 4," and "The Bourne Ultimatum."
The Nmap scanner can serve many roles. It uses a variety of approaches to discover computers on a network, and it also provides quite accurate information about operating systems, active services, and service vulnerabilities. Packaged in a cron job, Nmap notifies administrators when a service fails or a computer in the network suddenly offers new services installed by an attacker or overzealous user.
Nmap also includes a scripting engine and many LUA scripts for automating tasks and extending the functionality of the tools. Apart from the scanner, the Nmap suite includes other helpful tools, such as the Zenmap graphical user interface, the Ncat data transfer and debugging tool, the Ndiff comparison tool, and the Nping packet generator.
[...]
Use Express-Checkout link below to read the full article (PDF).
comments powered by

Disqus
Visit Our Shop
Direct Download
Read full article as PDF:
Tag Cloud