New Graphical Interface for Ubuntu on ARM
Feb 25, 2010
Linux is the operating system of choice for devices with ARM processors. Unfortunately problems with graphics appear in most cases. Ubuntu wants to fix this with a new GUI.
No matter if a smartphone, smart netbook or embedded device, most hardware with an ARM CPU is currently running Linux. It's natural that Ubuntu therefore wants a large slice of the ARM pie, but, like many GUIs, is running into resistance from graphics drivers that in many cases don't support direct rendering
To address the problem, a team at Ubuntu around developer Jamie Bennett is working in Ubuntu 10.04 on a new netbook interface based on the Enlightenment Foundation Libraries (EFL). The ARM port from Lucid Lynx checks during installation whether the computer is running with active 3D acceleration. If so, the normal netbook interface gets applied, if not, the new 2D GUI comes into action.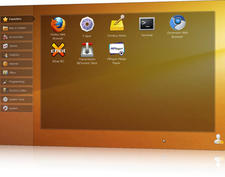 Apart from the classic netbook interface, the new EFL-based GUI provides at least one other benefit. Thanks to themes files in Edje format, fairly attractive themes can be generated without much programming. The EFL 2D launcher also provides a few very nice effects.
As is the case with many free software projects, the EFL launcher is not restricted to a particular architecture, so that it's available for i386 and x86_64 systems as well. To try out the new interface with Ubuntu's upcoming alpha version, use the command
sudo apt-get install netbook-launcher-efl
Changing back to the standard launcher simply requires
sudo apt-get remove netbook-launcher-efl
Details on the new GUI are in Jamie Bennett's blog.
comments powered by

Disqus

Issue 199/2017
Buy this issue as a PDF
Digital Issue: Price $9.99

(incl. VAT)
News
Both projects help organizations build their own containerized systems.

Mark Shuttleworth has resumed the position of CEO of Canonical.

Microsoft's open source code hosting platform CodePlex will come to an end after a more than 10-year stint.

Comes with Gnome 3.24

The bug was introduced back in 2009 and has been lurking around all this time.

The new release deprecates the sshd_config UsePrivilegeSeparation option.

Lives on as a community project

Five new systems join Dell XPS 13 Developer Edition that come with Ubuntu pre-installed.

The Skype Linux client now has almost the same capabilities that it enjoys on other platforms.

At CeBIT 2017, OpenStack Day will offer a wide range of lectures and discussions.
Tag Cloud