Issue #104 / Jul 2009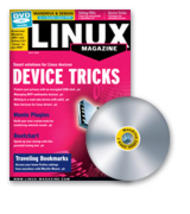 Front End Drupal offers Drupal users, from the complete novice to experienced designers, a focused approach to site design, behavior, usability, and management, with a special emphasis on Drupal theming and interactive design. Includes several examples from start to end.
Ebook readers for the Linux desktop
A netbook and a good ebook reader are all you need to mine the wealth of free ebooks glimmering from the depths of the web.
Browser synchronization and more with Mozilla Weave
Mozilla Weave for Firefox synchronizes your critical browsing information between multiple machines.
Improving boot performance with Bootchart
Bootchart analyzes the boot process and tells you where the system is wasting time.
Editing PDFs with OpenOffice.org
OpenOffice has always been able to export PDF documents. Version 3.0 is the first to introduce an extension that lets you import and edit PDFs.
Klaus Knopper is the creator of Knoppix and co-founder of the LinuxTag expo. He currently works as a teacher, programmer, and consultant. If you have a configuration problem, or if you just want to learn more about how Linux works, send your questions to: klaus@linux-magazine.com
The sys admin's daily grind: HAProxy
Charly's candidate today is the HAProxy load balancer, which not only distributes the load between servers, but also helps admins overcome their fears of lengthy configuration files.
Covert communications on Linux
Moving data to and from Linux systems under the radar.
Creating a custom Munin plugin
Munin collects information and plots parameters of your choice automatically and with minimal configuration. But if you can't find a plugin that captures the data you want to graph, you might have to roll your own.
...
Visit Our Shop
Direct Download
Tag Cloud