GPS the open source way
Find Your Bearings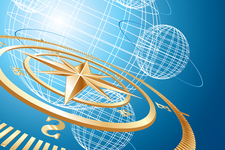 Open source GPS navigation systems show you the way to go home … or anywhere else you want to go.
GPS navigation systems are cheaper than chips these days, but if you already have a Linux-based laptop or netbook, you might want to try the open source route. All you need is a USB GPS receiver and a GPS navigation application. You can buy the former cheaply on eBay or in any store that carries GPS equipment. When it comes to GPS software, you have at least two choices: tangoGPS and GpsDrive. Both applications use mapping data from the OpenStreetMap (OSM) project [1], which provides maps of surprisingly good quality released under a Creative Commons license.
Keep in mind, though, that neither GpsDrive nor tangoGPS support turn-by-turn navigation and route planning – features reserved for commercial maps and software. What, you might wonder, is the point of using these applications if they lack some key features? Both GpsDrive and tangoGPS can come in handy in many situations. For example, both applications can save your route in the GPX format for use with other mapping applications or web services. GpsDrive and tangoGPS support waypoints and points of interest (POIs), so you can use both applications to store information about places and pin them on the map. The applications also offer features not available elsewhere. GpsDrive, for example, provides support for Kismet wireless network detector, so you can use it to map wireless networks, whereas tangoGPS includes a geotagging feature that lets you add geotags to your photos with ease. In other words, GpsDrive and tangoGPS might not replace a dedicated commercial navigation system, but both applications do have some nifty uses.
Before you install GpsDrive or tangoGPS, you have to enable support for external GPS receivers on your machine. To do this, you have to install the gpsd daemon software [2], which monitors the attached GPS receiver and makes the data collected from its sensors available for other applications.
[...]
Read full article as PDF »
comments powered by

Disqus
Visit Our Shop
Direct Download
Read full article as PDF »
Tag Cloud