Connecting to your Linux system from a smartphone
Keep In Touch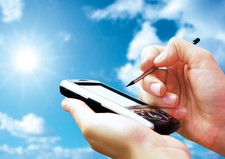 Tune in to your Linux laptop anytime from an iPhone or iPod Touch – or adapt this technique to reach your system from other mobile devices.
Like many, I have a laptop. Also like many, I have a girlfriend who wants to use my laptop, so I created an account for her in Ubuntu Jaunty; she can use the "switch user" session feature in the upper-right corner whenever she wants to log in. Now she has her desktop, and I have mine. However, sometimes I need to use the system at the same time she is logged on.
When she is using the system, I turn to my iPod Touch for computing tasks. The Touch starts faster than a conventional PC. I can check my mail, browse the web, and even play a game or two to make the time pass while she rearranges her MP3 collection. But some problems still require a full computer system. For instance, I have an account on a torrent site, and that connection must go day and night or I'll lose the account. Also, I need to convert the downloaded movies from XviD to MP4 with HandBrake, a CPU-hungry application that requires real PC hardware.
The ideal solution is to work from my iPod when I can, then connect to the laptop when necessary through a remote session using the iPod as a remote VNC client. To make this system work, I need to connect to a VNC server running in the background on the laptop – without the need for a separate SSH session to start the server manually. Also, it is important for this VNC connection to be invisible to the user logged on to the laptop – I want my own desktop, not a view of the current desktop session – and the connection must continue unhindered, even if my girlfriend switches the local desktop to her own account.
[...]
Read full article as PDF »
comments powered by

Disqus
Visit Our Shop
Direct Download
Read full article as PDF »
Tag Cloud