Reflections on the Debian community
Out in Strength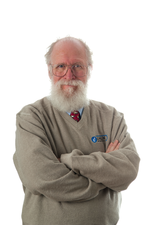 While attending DebConf15, "maddog" reflects on the remarkable organization and people of the Debian community.
I am writing this from Heidelberg, Germany, where I am attending DebConf, the annual world-wide meeting of developers for the Debian GNU/Linux distribution. Although the meeting this year is called DebConf15, people are quick to point out that they started with DebConf0, because "all good programmers start counting at zero." Last night was the 22nd anniversary of Debian's birthday.
The conference is being held in a large International Youth Hostel. The largest DebConf so far, with over 550 people registered, close to half of the people are actively involved with the distribution. When I say "people," I mean people of all sizes, sexes, ages, sexual orientations, and abilities. The two things they have in common are a passion for community and Debian.
I thought the only other time I had attended was DebConf8 in Argentina, but recently I realized that I had also attended Debconf7 in Edinburgh, Scotland, where Phillip Hands developed a Debian tartan. The now famous Debian kilt uses the stripes of the pattern to spell out "Debian" in Morse code. I could not afford to order one that year, but thinking about it over the whole next year meant that when Phillip took order number two, I was there with my money. The kilt cost a bit extra for me, because in 2008 I weighed a "bit extra" – but it was worth it.
Sometimes it is difficult to describe Free Software to people who do not know about it, and it is even more difficult to describe Debian developers, even to people who know about Free Software.
Debian is not "just" a distribution; it is a "distribution enabler." Ubuntu, Mint, Knoppix, MEPIS, PureOS, Damn Small Linux, and a whole slew of other distributions would have a much harder time of existing if it were not for the more than 43,000 packages of software that comes from the Debian project. In addition to these distributions, a lot more have started without gaining critical mass but had their technologies accepted into Debian projects.
Debian is more than just a bunch of code. One of the first things the project did was create a Social Contract to guide people in what they were doing and what they were about. From this came a code of conduct and a methodology of coordinating and bringing out distributions, as well as a structure for how people interact and work together. Many other software-producing entities might do well to study this structure and methodology.
Debian also runs across a wide variety of computer architectures – not just Intel, AMD, ARM, and MIPS (big and little endian), but other architectures such as PowerPC and IBM System z. Distributions for other architectures from ancient machines, such as the DEC Alpha, are mostly forgotten.
Another part of the Debian culture is to conduct discussions out in the open. People can subscribe to the Debian mailing lists, and look at bug lists to see what software issues are being discussed. Even major issues are brought out into the open, which helps people understand where the operating system is going and why.
Finally, there is DebConf itself and the wonderful people who produce (and attend) the event. A couple of years in advance of a conference, several local Debian groups start putting together a proposal to bring DebConf to their city. Once the proposal is done, the "local team" (as they are called) presents it for consideration and voting. A city (and team) are selected, and the hard work goes from plan to reality. All of this work is done by volunteers.
Video streams from all the talks are captured, so even people who are not attending can see the presentations. The talks are also archived so people can watch them later – in case they are trying to finish a magazine article.
Children are welcome, with activities just for them, and at night, planned social events include such things as wine and cheese tasting or folk dancing. At mid-week people can take day trips to see parts of the city, rest, or participate in other activities, then it is back to work on Thursday to plan new Debian releases.
In the Debian documentation files is a project history file called A Brief History of Debian. "Chapter 4 – A Detailed History," section 4.10, "Important Events," lists the names of several Debian developers who have died (many of them very young) and what they did for the project. At the end of every section, a sentence simply states that the person "will be missed."
I want to be cremated wearing my Debian kilt. My hope is that I will be missed.
comments powered by

Disqus
---
Support Our Work
Linux Magazine content is made possible with support from readers like you. Please consider contributing when you've found an article to be beneficial.
---