Welcome
Won't Happen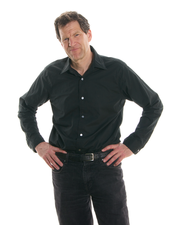 This article went to press one week before Richard Stallman abruptly resigned as head of the Free Software Foundation. Yikes! All is flux in the FOSS world. Still, the trend toward détente between Microsoft and the Free Software community is bound to continue, and these thoughts on Stallman's recent visit to Redmond offer a glimpse into how real change happens – one small step at a time.
Dear Reader,
In the latest update in the ongoing rapprochement between Microsoft and the FOSS community, several news sources report that Free Software legend Richard Stallman actually arrived at Microsoft Research headquarters this month and gave a talk for Microsoft employees [1]. As I have often used this space to mention in the past, this spirit of cooperation between Microsoft and the FOSS community is so unexpected that it actually seems a little unreal to those of us who remember the wild rhetoric and unrestrained legal wrangling of the bad old days.
As amazing as it might seem that Microsoft invited Richard Stallman to speak, people seemed more amazed that Richard Stallman actually accepted the invitation. Back in the days when Microsoft had a lot to say about Free Software, Stallman certainly had a lot to say about Microsoft. To this day, Stallman has a page on his personal website entitled "Reasons Not to Use Microsoft" with a fiery list of Redmond transgressions [2].
"How could this happen?" the pundits are asking. Richard Stallman is a firebrand, a provocateur. What is he doing at Microsoft? But that's where it gets interesting. Richard Stallman is an very intelligent fellow, and he didn't build the Free Software movement to where it is now through stony silence in the face of opposition. He built it by talking to people. Through the years, he has been uncompromising in his principles, but he has never been shy about presenting his case.
Another thing to know is that Stallman doesn't fall neatly into the over-simplified Windows versus Linux duality that has been the fashion of Linux publishers and FOSS chat groups. Stallman objects to all software products that don't conform to the four freedoms outlined on the Free Software Foundation website [3], which includes many other products in addition to Microsoft products. (For an education on this matter, see the list of Free GNU/Linux distributions at the Free Software Foundation site, which excludes nearly all of the mainstream distros that receive media attention for being "free" – including Debian [4].) So Stallman showing up at Microsoft is not exactly like a historic resolution heralding a new era of Pax Britannica. It is yet another visit to yet another software company that could use some enlightenment.
Richard Stallman did not go to Microsoft to negotiate. He is an ambassador for an idea, and he went there to make his case, just as he does all around the world. According to the report at ZDNet, he gave "mostly the standard talk, covering the importance of free software, GPL v3, GNU vs. Linux."
The most interesting (and newsworthy) part of the talk is the new topics, which reveal how the goals of the Free Software Foundation are playing out through a new crop of contemporary questions and problems. Stallman's list of "small requests" for Microsoft shed light on where we are now. For instance, reports are that he suggested Microsoft advocate for more consistent free licensing at the GitHub open source code site, which Microsoft purchased in 2018, and that the company use its clout to force manufacturers to publish their hardware specs, so that developers will have an easier time working their way around the complications of the Microsoft-driven Secure Boot feature of the UEFI standard.
Interestingly, back when Microsoft was a sworn enemy of Free Software, they didn't really have to listen to anything the Free Software Foundation said. Now that they are supposed to be playing nicely, there is a need for them to engage in dialog. The good news is that Microsoft recognizes this need – and that Stallman is ready and waiting to capitalize on the opportunity to make his case.
So just an FYI to all the discomfited bloggers: If you harbor a fear that Microsoft could somehow talk Richard Stallman into budging even an inch on the clear principles of the movement he started back in 1985, forget that…it will never happen!
comments powered by

Disqus
---
Support Our Work
Linux Magazine content is made possible with support from readers like you. Please consider contributing when you've found an article to be beneficial.
---