Prevent Your Computer from Falling Asleep with Caffeine

Productivity Sauce
Mar 26, 2010 GMT
Tweaking the power settings on your notebook may help to squeeze out more battery life, but this can also turn your machine into a narcoleptic which abruptly falls asleep when you are watching a movie or reading an ebook. Caffeine is a simple utility that can prevent this from happening. To install Caffeine on Ubuntu, add the project's PPA using the following command:
sudo add-apt-repository ppa:caffeine-developers/ppa
Use then the sudo apt-get install caffeine command to install the utility.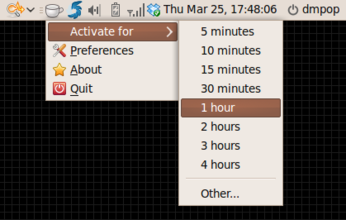 Once up and running, Caffeine adds an icon to the notification area. Using the tool is a doddle: click on the icon to enable Caffeine, click again to disable it. You can also enable Caffeine for a specific period of time. To do this, right-click on the Caffeine icon and select the desired time period from the Activate for menu. This way, you don't have to remember to disable the utility when you don't need it.
The Preferences dialog window (right-click on the Caffeine icon and choose Preferences) allows you to configure a few useful options. If you want Caffeine to start automatically, tick the Start Caffeine on login check box. Caffeine also allows you to specify applications and processes that automatically activate the utility. First off, launch the application you want to add to Caffeine, switch to Caffeine's Preferences dialog window, press the Add button, select the application from the list of running processes, and press Add.
Via Geek Ride via Linux Journal
Comments
That's silly

Now that's silly. If sleep and suspend were hardwired, Caffeine would make perfect sense.

But all you have to do to watch a full movie without getting your PC to sleep is tweak a few configs on whatever power-management daemon you're using.

Caffeine is a GUI that neither competes against nor completes your power-management daemon's GUI.
comments powered by

Disqus

Issue 272/2023
Buy this issue as a PDF
Digital Issue: Price $12.99

(incl. VAT)