Linux remote administration on Android and iOS
Conclusions
Smartphones and tablets with Android and iOS have advanced in recent years to the extent that they can be useful alternatives for admins when it comes to taking a quick look at a supervised system. Despite serious security deficiencies, they have lost their dubious reputation as admin tools. A wide selection of apps for virtually any application turns these mobile devices into general purpose tools – even without root permissions on the devices (see the box "More Fun with Root Privileges").
More Fun with Root Privileges
None of the applications presented in this article need to be run as root; however, if you do have advanced permissions on your device, you can open the door to more interesting apps, such as the WiFinspect [23] network security tool. A network scan is performed at a far more leisurely pace than with Fing, but the tool also checks for common computer vulnerabilities by sniffing network traffic in Pcap format. Internally, admins use well-known tools such as Nmap or tcpdump.
The Function Overview in Google Play Store lists other goodies, such as the ability to test access points for unchanged, insecure default passwords.
Also attractive to security-conscious admins are vulnerability scanners, such as the pen testing app zAnti [24] (Figure 10) or Android forensics tools such as the memory analysis program Volatility or the RAM snapshot tool Lime [25]. Most of these tools only develop their full potential with root privileges.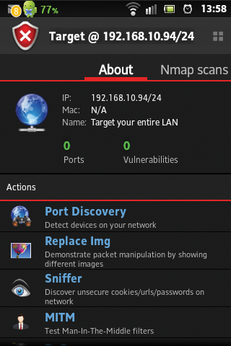 The mobile admin's backpack is becoming significantly lighter now that the laptop and PC can stay at home. However, for long sessions, it doesn't hurt to have a laptop at hand – or at least a proper Bluetooth keyboard. Everything else is touch.
comments powered by

Disqus
Visit Our Shop
Direct Download
Read full article as PDF: