Three e-commerce webshops tested
Good Business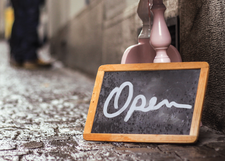 If you're looking to start your own web store, you don't need to spend thousands of dollars on software. We test three affordable e-commerce platforms.
Users wanting to run their own store on the Internet do not need to invest huge sums in software and hardware. An online store can be affordable even for small businesses or sole proprietors. One solution for non-techs is to sell their goods through auction sites or marketplaces and pay a fee to the service provider.
Alternatively, web hosting providers offer ready-made shop systems to their customers, allowing them to point and click through the process of compiling a small warehouse. This solution usually entails paying a monthly or multi-digit fixed fee. Many content management systems also contain corresponding webshop modules.
Running a store on your own LAMP server can help you both save costs and retain control. For this article, we tested ready-made shop systems, including two free, open source tools, OpenCart and Satchmo, and the commercial, proprietary LemonStand. The test environment was a RHEL-based Amazon Linux AMI (2013.03).
Among other things, we wanted to show how complex the installation and setup would be on your own server, whether the candidates support user roles (e.g., for changes to the product range and descriptions), how intuitive the stores are for buyers, whether cooperation with CRM systems is possible, and what payment interfaces the e-commerce platforms provide. To simulate a real store, the testers used the same set of sample files and products.
OpenCart
The first candidate was developed by OpenCart Limited of Hong Kong. OpenCart [1] is released under the GPLv3 and is free in the basic version, although users must pay for some extensions and themes [2]. The store software requires a web server (preferably Apache), PHP 5.2 or newer, MySQL, and cURL. We looked at version 1.5.6, which additionally required two PHP extensions, GD and Mycrypt, on the test system.
Stockpiling
After unpacking the ZIP file, you need to copy the contents of upload to any directory below the document root. You also need to create a new MySQL database and user in the shell or the GUI. Installation continues via the web interface. After you accept the license agreement, the installation script checks to see whether all dependencies are fulfilled and other PHP files and directories have the correct access rights. Next, you rename the config-dist.conf file to config.conf and admin/config-dist.conf to admin/config.conf.
In the browser, you then enter the database information in a form and create an initial account for the store administrator. Finally, you remove the install directory from the server.
To access the OpenCart admin area, append admin to the URL. After logging in, the dashboard comes up with an overview and statistics for visitors and purchases. Your first port of call on the freshly installed store is the System menu and then to Settings or Localisation, where you can set up general details of the shop and the proprietor, including the address, language, currency, and units of weights and measures. All told, this process does involve a huge amount of clicking, even though OpenCart does support granular tuning.
A visit to Settings | Users is mandatory. OpenCart supports users and groups, which you can use to define in a very precise way which employees have access to what areas and whether they are allowed to make changes (Figure 1). Thus, a warehouse employee will see the shipping information, someone in sales will be able to maintain the product catalog but not the customer data, and an employee in the Accounts group could access customers, sales, and tax information but could not modify the products offered.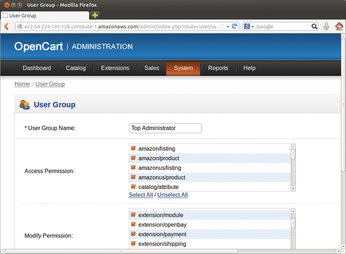 The store system manages customers in Sales | Customers. The Customer Groups section contains the general settings for the shopper accounts. The administrator can, for example, stipulate that new registrations are approved manually.
Window Dressing
Our testing revealed some important omissions, such as an option for importing customer lists. Likewise, the basic version of OpenCart lacks import and export functions for product catalogs. A search on the Extensions page [2] brings to light a number of plugins that extend the shop, adding import and export features – either for free or for a small or large amount money. Without add-ons, OpenCart can at least produce a SQL dump with all settings and text content via System | Backup/Restore, but you need to back up images and other media manually. A click on Restore opens a selection dialog that lets the user upload data backups in SQL format.
More than 2,300 themes are available on the Extensions page for your store's window dressing. Many looks are free, and others cost between US$ 15 and 90. More offerings for OpenCart are available from independent marketplaces on the Internet. To create a new template for the shop, download the archive, unzip it, and save the content to the catalog/view/theme directory on the web server. The look is activated via the admin panel in System | Settings. Press Edit next to the store and then select the new template in the Store area.
Besides themes, extensions also include a number of plugins for payment and shipping interfaces, RSS feeds, multilingual shops, or even blogs. Enhancements that help evaluate sales and generate practical reports for management are also available.
The administrator organizes the product range in the Catalog menu. Categories and subcategories help you set up the internal navigation of your website. The parent departments, which have a checkmark next to the Top option, appear in the main menubar on the store's home screen. OpenCart also supports properties, which allow customers to sort and filter products. In Catalog | Options (Figure 2), you can determine what versions of a commodity are available (e.g., sizes, colors, etc.).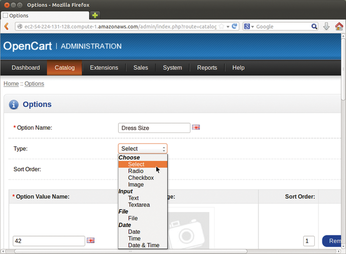 The Products section with its dozen submenus and plethora of configuration options can pose a challenge to employees. Entering names, descriptions, metatags, article numbers, tax classes, and SEO keywords is a huge amount of work. Shop owners should also allow a little time for editing images. Their dimensions must not exceed a maximum width or height of 1,000 pixels, and the files cannot be larger than 300KB.
comments powered by

Disqus
---
Support Our Work
Linux Magazine content is made possible with support from readers like you. Please consider contributing when you've found an article to be beneficial.
---